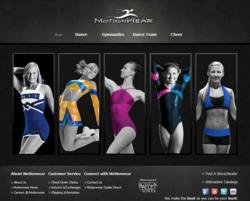 We feel that the high quality of our apparel combined with an easier-to-use website will make the shopping experience much more enjoyable for our customers
(PRWEB) September 13, 2011
Motionwear, a leading manufacturer of dance, gymnastics, team and cheerleading apparel, announces the redesign of its new and innovative website. The new site, http://www.motionwear.com, showcases increased product features and offers a fresh look and feel emphasizing a customer-friendly experience.
"After months of hard work, we're proud to unveil the new Motionwear.com," said Motionwear Executive VP Chuck Pugh. "We feel that the high quality of our apparel combined with an easier-to-use website will make the shopping experience much more enjoyable for our customers."
In addition to a new look and feel, we have implemented the following improvements:

Straight-forward Navigation – Customers can seamlessly navigate through the online store.
Custom Garment Design – Customers can now customize apparel and view it online.
Greater Access – Increased access and channels to see what's new and what we're up to.
As active apparel trends change and customers demand more from their clothing and where they choose to purchase it, Motionwear continues to evolve. For 25 years, Motionwear has built a reputation for outstanding fit and quality setting the standard in active apparel for dance, gymnastics, team and cheer apparel.
To learn more about Motionwear and its product offering, visit http://www.motionwear.com.
About Motionwear
Motionwear is a premier provider of active apparel for dancers, gymnasts and cheerleaders of all ages and skill levels. Motionwear products are available in fine dance retail stores nationwide, internationally and online at motionwear.com. At Motionwear, we make the best dance, gymnastics, team and cheer apparel and accessories. Look your best, feel your best, perform your best with Motionwear, official leotard of Boston Ballet School.
###