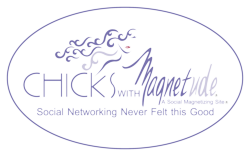 (PRWEB) October 31, 2011
Chicks with Magnetude® is a Social Magnetizing Site®, created by EE for Life, LLC designed as a solution for women to remove the struggle from their lives, create instant energy shifts and effortless life transformations. This Social Magnetizing site®, a little unconventional, a little sensual, a little girls night out, combines the best of social networking with the energy of women to create an exciting interactive and ultimately life changing site.
Chicks with Magnetude® takes the power of social networking to a whole new level and ultimately goes beyond sharing information, to sharing transformations. Social Magnetizing® is social networking with benefits and works the same way as other networking sites with areas to leave your thoughts, ideas and opinions. The fundamental difference is that in Social Magnetizing® woman use their natural intuition and imagination to shift and transform each other. Members will learn the principles behind Keeping it Magnetized through our community of energy responsible people. When Magnetized Energy is present, shifts happen and transformations are the norm of our community.
Chicks with Magnetude® includes: My EE TV™, a TRANSforum™, blogs, and of course a little shopping! We are really excited about this new venture and know that women around the world will be excited about this Social Magnetizing Site® for the social networking woman.
Catch up with us before 2011 ends at chickswithmagnetude.com or visit our Facebook page: facebook.com/pages/Chicks-with-MAGNETude/230383536976932?ref=ts
Chicks with Magnetude® was created by EE for Life, LLC, founded by Doreen Carrie. Doreen has been on a "Magnetized Mission" all her life and has been aware since childhood of an individual's inner and outer struggle. Twenty five years ago, Doreen started magnetizing people and now with the Social Networking boom she has created a site teaching women how to magnetize each other. To learn more about Doreen Carrie and her mission, please visit doreencarrie.com. You can also learn more about Doreen Carrie's company EE for Life, LLC by visiting eeforlife.com.
###