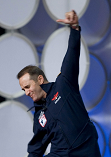 Atlanta, GA (PRWEB) January 04, 2013
Your Wingman, Lt. Col. Rob "Waldo" Waldman: Let the public unwrap a special new year's holiday gift with the unveiling of his new and improved website. Waldo, a highly respected and inspiring motivational speaker, is thrilled at the quality of the site's design and depth of information. It does a great job of relaying his teamwork and partnership approach to winning in business.
The yourwingman.com website's new look will have prospective and returning clients navigating available services with the ease of its namesake fighter pilot. With the site's wealth of motivational options for businesses, sample videos, glowing testimonials, and more, users will have no problem finding the perfect keynote presentation to inspire their employees to take action and break performance barriers this coming year.
Features of the http://www.yourwingman.com include descriptions, demos, and available options for Waldo's services as a:

Motivational Speaker
Business Motivational Speaker
Sales Keynote and/or Motivational Speaker
Leadership Keynote and/or Motivational Speaker
Inspirational Keynote Speaker
Keynote Motivational Speaker
Additional website features include: seminar options, Waldo's Wing Blog, Wing Store, and an archive of the many television and news articles featuring the amazing work of Waldo and his company, Wingman Enterprises.
With such a variety of services available, business and sales executives will discover why there can be no better gift to give their own business and its employees than the gift of motivation and team success.
About Your Wingman:
Business motivational speaker Lt. Col. Rob "Waldo" Waldman – The Wingman – is a professional business motivational speaker and author of the New York Times and Wall Street Journal bestseller Never Fly Solo. He teaches organizations and individuals how to build trusting, revenue producing relationships with their employees, partners, and customers while sharing his experiences as a combat decorated fighter pilot and businessman. For more information, visit http://www.yourwingman.com.