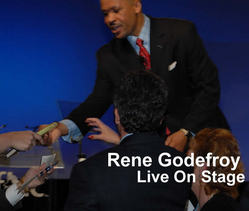 It's not the recession that's killing us. It's our attitude towards the recession that's doing so
Atlanta, GA (PRWEB) January 29, 2009
On Friday January 29, 2009, the once diseased-stricken kid who is now a stunning success in the US will address the Atlanta Apartment Association at the Cobb Galleria Center in Georgia at 7:00 pm.
No one who knew Rene Godefroy--a frail, sickly boy in Haiti struggling to get by-- expected him to survive to adulthood, much less become a motivational speaker, a huge success and an inspiration to tens of thousands of people.
Godefroy was abandoned by his father as an infant and grew up in a tiny hut where he and his mother slept with rats and roaches. When he arrived in America in 1983 with five dollars, two shirts, and a pair of pants in a tiny suitcase, he didn't even speak English.
But on Jan. 29, Rene Godefroy, now an internationally acclaimed motivational keynote speaker, will bring his message of empowerment and gratitude to an audience of 500 people when he graces the stage at the Atlanta Apartment Association.
A few highlight of Godefroy's accomplishments:

He is a published author and sought after speaker.
Appeared on 60 Minutes along with Colin Powell, Zig Zagler, and Anthony Robbins.
Provided Keynote Speeches to Charles Schwab, Bell South, AT&T, Marriott International, and the US Military, among others.
Founded The Rene Godefroy Foundation. Inc, a philanthropic company based in Atlanta dedicated to raising funds for children in his native village in Haiti. PRWeb Press Release Newswire
"This speech is somewhat emotional charged for me. I was the doorman that carried bags and boxes for guest to the Galleria Center that is connected to the hotel where I once worked. Now I get to return as the keynote speaker. I look forward to seeing my former co-workers." Says Godefroy.
From being a doorman, Godefroy has gone on to become a published author and a sought-after speaker whose presentations have been given rave reviews by CEOs, the US Military, best-selling authors and presidents of multi-million dollar corporations.
His keynote speech to the Atlanta Apartment Association is titled No Condition is Permanent. Godefroy will talk about the current economic recession and how people can continue to thrive in what many perceive as hard times.
"It's not the recession that's killing us. It's our attitude towards the recession that's doing so," according to Godefroy. "Most of us in this country of plenty suffer from a terrible disease I call gratitude deficiency. No matter how bad things are we still have it ten thousand times better than most people around the world."
The event will be held from 7:00 p.m. to 8:30 p.m., and Godefroy will be selling his motivational book, "Kick Your Excuses Goodbye", after the presentation. For more information about Godefroy, please visit http://www.villagehero.com
###