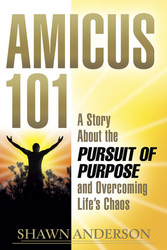 If you've ever felt defeated by life's events…if you've ever wished for a start-over…then this book is for you
Marina Del Rey, CA (Vocus) March 10, 2010
Motivational speaker, coach, and writer Shawn Anderson believes the most successful…and happy…people are individuals who have succeeded in two areas: 1) they have identified a life purpose, and 2) they are inspired by a deep-seeded passion in pursuit of that purpose.
Anderson's latest book, Amicus 101: A Story About the Pursuit of Purpose and Overcoming Life's Chaos, gives readers the chance to learn how to uncover both purpose and passion…but he does it in a way unique to most self-help books. Told in the form of a story instead of a much more analytical how-to guide, Amicus 101 entertains by introducing readers to the greatest possibility teacher of all time…a fictional character named Amicus.
"I reached the point where I became exhausted of reading all the 'Here's what you do' type books. They all seemed to feel either a bit technical…or even preachy. So I set the goal of writing something more entertaining…a story where the reader can have fun getting engaged in the story…yet still find life-changing substance."
In Amicus 101: A Story About the Pursuit of Purpose and Overcoming Life's Chaos, Shawn challenges readers to join the book's main character, Jay Garfield, and step into the most unique and life-changing classroom of all time. "If you've ever felt defeated by life's events…if you've ever wished for a start-over…then this book is for you," Anderson says. "We've all been there in one form or another. We've lost a job, a relationship, a business…hope. After we're hit by the big life disaster though…we have a choice…to move forward or not."
The mysterious instructor in Anderson's book, Amicus shares with his student 21 powerful lessons that hold the secrets to changing everything about a person's life. "By following the life lessons, the main character gets a chance for a 'do over'…and that's something we would all love to have," Anderson says.
With a life mission of empowering 1,000,000 people, Shawn Anderson is a writer, coach and national speaker on the topic of "possibility thinking and creating opportunity." Referred to by media outlets across the country as the "Extra Mile Man" because of his 4,000+ mile bike ride across the country interviewing over 200 "extra mile" people in 2009, Shawn doesn't just talk the talk about purpose, passion, possibility, and going the extra mile…he lives it. In this case of the Extra Mile America tour, Shawn gave away $10,000.00 to the individuals whose stories he found most inspiring.
Salt Lake City Mayor Ralph Becker had this to say about the book: "Amicus 101 is a book that motivates and encourages people to evaluate themselves and make changes necessary to their fulfillment, satisfaction and happiness."
Los Angeles' John Ireland of the KCAL9 Sports Team had this to say: "Amicus 101 is a story that will give hope and inspiration—no matter what your circumstances. Read it and see for yourself … you just might find the answers you've been looking for."
Ellen Firestone, the Senior Communications and Finance Executive for Greater Philadelphia Cares shares this: "I just finished reading Amicus 101…and WOW what a great book! I usually read this type of book in a couple of hours, but found shortly after beginning that this is not a book to be read, but a book to be done. There were days I couldn't wait to get home and get to the next lesson..."
Anderson began motivating people by motivating himself. Soon after graduating from University of California @ Berkeley with only $300 dollars, Anderson developed an accountability system called S.O.A.R. (Seeing, Organizing, Acting, and Rejecting) while working the graveyard shift at a 7-11. Years later, he parlayed his success formula in his first book, SOAR to the Top! Together, Anderson's books have sold 65,000 copies. Additionally, Anderson reaches an international audience through the "M.A.P. to Success Circle!", his weekly motivational newsletter that encourages people to take action on their dreams and to make them a reality.
"We all need a reminder that the quality of our lives is determined by our effort. That's what Amicus 101 does…it reminds us that if we want a great life, it starts with the person in the mirror."
Shawn Anderson is available for motivational speaking, corporate training, success coaching, and group fundraising.
###