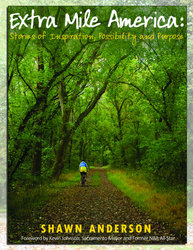 I wanted to interview people who had experienced walking life's hot coals…and who had come across to the other side determined to make a real life difference.
Marina Del Rey, CA (Vocus) September 1, 2010
Extra Mile America: Stories of Inspiration, Possibility and Purpose (published by Goldmind Press) is the encouraging story of one man's desire to remind people that good things happen in life when we go the extra mile. To symbolize the power of the "go the extra mile" message, Shawn Anderson created the Extra Mile America Tour and pedaled a bicycle from San Francisco to Boston…solo. Stopping in 21 major cities across the country, he interviewed over 200 inspirational Americans who had demonstrated a remarkable ability to go the extra mile, overcome personal setback and accomplish something extraordinary.
Anderson's 5th book, Extra Mile America recounts the stories of many of the inspirational people he interviewed as he crossed the country. A few of the people highlighted in the new book include a blind woman who climbed one of the world's tallest mountains…a tri-athlete who was born a congenital amputee…a 95-year-old who has been volunteering at the same hospital for 49 years…a wife who started an organization to help violent teens after her husband was killed by a 14-year-old…a race-car-driving business executive who has fought through breast cancer twice…a corporate executive who gives away 82% of his company's profits… and a woman whose high school son died suddenly and is now a leading spokesperson for organ donation.
"I wanted to interview people who had experienced walking life's hot coals…and who had come across to the other side determined to make a real life difference." Some of the 200+ people Anderson interviewed had been fired. Others had experienced serious health challenges or relationship heartbreaks. Still others had lost a person very close to them. Anderson explains, "But in spite of their challenges, they all came out stronger…and each with a more determined approach to making a difference with their individual life." Anderson spent time with people who had overcome tragedy and yet created something great. He spent time with others who built extraordinary organizations based on their passion alone.
"Times are tough for many people…no doubt. But I want to give people an alternative to just throwing their arms in the air and saying 'I give up,'" Anderson says. "They can dig deep…go the extra mile…and effect practically every area of their life in a positive way. I want to show people that each of us still has the ability to control our own destiny." He continues, "We just have to remember that simple law of success: If you want more in life…you have to go the extra mile." Anderson concludes, "Life will just happen to us if we let it…but if we take purposeful action…positive momentum builds and change takes place. That's what Extra Mile America is about."
The First Lady of Delaware, Carla Markel, met Anderson as he pedaled through her state. She had this to say about his new book, "Shawn's Extra Mile America offers each of us the chance for rejuvenation and inspiration to get involved and make a difference." Additionally, Kevin Johnson, Mayor of Sacramento and former NBA All-Star adds, "Shawn encourages all of us to 'go the extra mile' and put ourselves in the game."
With a life mission of empowering 1 million people to live a more passionate and purposeful existence, Anderson sincerely cares about helping others win in life. He started his career motivating people by first motivating himself. Soon after graduating from University of California @ Berkeley and with only $300 dollars to his name, Anderson found himself working the graveyard shift at a 7-11 convenience store. While there, however, Anderson created a success accountability system that would change his life. Years later, Anderson shared his success system, S.O.A.R. (Seeing, Organizing, Acting, and Rejecting), in his book, SOAR to the Top! which has sold over 45,000 copies. Additionally, Anderson reaches an international audience through the M.A.P. to Success Circle!, a free motivational newsletter that encourages people to take action on their dreams and to make them a reality.
Anderson concludes: "The stories in the book have the power to inspire your spirit, challenge you to re-evaluate your own life setbacks, and motivate you to take a deep breath of courage in order to get back on your own metaphorical bike with a renewed passion and purpose."
Shawn Anderson is available for motivational speaking, corporate training, and individual success coaching.
# # #