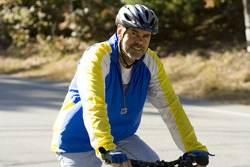 The circumstances of today do not have to define our potential for tomorrow. Hope should never be lost.
Marina Del Rey, CA (Vocus) April 6, 2010
What helps people make it through tough times? To find the answer, motivational speaker and writer Shawn Anderson created the Extra Mile America Tour. In an effort to symbolize the idea of going the extra mile in life, Anderson pedaled a bicycle from San Francisco to Boston to interview over 200 accomplished individuals. Many of these people had demonstrated a remarkable ability to persevere through life tragedies of varying degrees and achieve something extraordinary. During pre-set interviews in 21 cities across the country, Anderson discovered 7 strategies for overcoming tragedy that were common among them.
Seven strategies that extra-mile people use to overcome life's tragedies:
1. Don't quit on life.
Tragedy might have happened, huge mistakes might have been made…but the world continues. Life has cycles…good and bad…and extra-mile people realize that successful living includes keeping going.
Anderson says: "The circumstances of today do not have to define our potential for tomorrow. Hope should never be lost."
2. Live day by day.
It's easy to get overwhelmed by the "What am I going to do now?" feeling. But extra-mile people just take life one day at time. They make sure to do the best they can each day…and nothing more.
Anderson says: "Take small, healing steps daily knowing that this life storm, too, will eventually pass. The sun will shine again."
3. Find support.
When tragedy strikes, isolation is not the answer. Extra-mile people surround themselves with people who believe and support them completely.
Anderson says: "Forge relationships with people who trigger positive energy to flow back into your life."
4. Get involved again.
It's easy to want to hide after something bad happens. But extra-mile people who find victory after their tragedy get involved and start feeling valuable by participating in life again. Soon.
Anderson says: "Whether it's scheduling time with people or joining a new group, put yourself out there again. When you do, healing always occurs more quickly."
5. Remain optimistic.
Extra-mile people support themselves with their own words and actions. They don't let negative self-talk rule their brains. They know that they have a choice in how to react to every event or occurrence in their life, and they make sure not to surrender to self-defeating emotions.
Anderson says: "Optimism is a powerful healer in getting through tough times. Believe."
6. Have faith and look for a higher purpose in the loss.
In response to a devastating tragedy or loss, extra-mile people overcome their moment by finding purpose. They believe that there is a stronger power at work in the world than their own simple actions, and they understand the fundamental interconnectedness of all that is around them.
Anderson says: "Faith in a higher power…and yourself…works miracles in overcoming bad events."
7. Seek to add value to the world.
Extra-mile people who have weathered a life storm recognize the opportunity to re-evaluate their own contribution to the world. They use their moment as an igniting spark to do something meaningful.
Anderson says: "Create a legacy that endures and make the world a better place because you were here. Leave footprints."
A few of the people Anderson interviewed included a blind woman who climbed one of the world's tallest mountains, a woman whose high school son died suddenly and is now a leading spokesperson for organ donation, a congenital amputee who runs marathons, a 95 year-old woman who has been volunteering at the same hospital for 49 years, a woman who started an organization to help violent teens after her husband was killed by a 14 year-old, and a race-car-driving business executive who has fought through breast cancer twice.
Although many of the people Anderson spoke with had experienced life tragedies of varying degrees, each individual rose to a greater place of contribution and value in life after coming through their personal fires. According to Anderson, "Many of these people had a purpose and passion that pushed them up off the canvas floor after life had knocked them down. The great thing is, though, they not only went on to survive…they used their setback as a guiding light to do something extraordinary."
Anderson continues, "No one is immune to experiencing tragedy. It is inevitable that at one time or another, life will throw a hurdle into each of our lives." Anderson concludes by saying, "People have a choice to throw their hands in the air and give up after something bad happens…or they can go the extra mile…and positively change the course of their life's direction."
Today, Anderson is at work finishing his 5th book, Extra Mile America: Stories of Inspiration, Possibility, and Purpose that will feature many of the inspirational people he met during the Extra Mile America Tour. In addition to authoring books on the topics of possibility and purpose, Anderson reaches an international audience of readers through his M.A.P. to Success Circle!, a free weekly motivational newsletter that encourages people to take action on their dreams and to make them a reality.
Shawn Anderson is available for motivational speaking, corporate training, and success coaching.
###