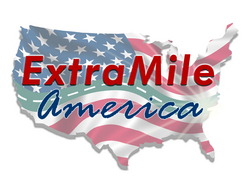 great things happen in life when we go the extra mile.
Marina Del Rey, CA (Vocus) September 14, 2010
The founder of the Extra Mile America Foundation, Shawn Anderson, is touring the United States reminding people that real change in life does not come from a government program, a boss, or a spouse. It comes from "going the extra mile" and putting forth greater effort in all that we do individually.
"We all talk about wanting change…happiness…more money…more adventure in our lives. But it seems as if we have become dependent on others to make that happen. It's not others who are responsible for our success or happiness…it's us…individually," says Anderson.
Set to speak 100 times between August and November 1 in cities from Los Angeles to Philadelphia, Anderson has already spoken to service clubs, high schools, churches, colleges, women empowerment and cancer organizations, homeless shelters, and he has keynoted fundraising events. His mission is simple: speak to and remind as many people as possible that "great things happen in life when we go the extra mile."
Additionally, the Extra Mile America Foundation has set a goal of having 100 U.S. cities declare November 1, 2010, "Extra Mile Day"…a day to recognize individuals in the community who have demonstrated an extra mile spirit in service and effort. Currently 56 cities have declared their involvement.
"Times are tough for many people…no doubt. But I want to give people an alternative to just throwing their arms in the air and saying 'I give up,'" Anderson says. "We can all dig deep…go the extra mile…and effect practically every area of our life in a positive way."
The author of Extra Mile America: Stories of Inspiration, Possibility and Purpose, Anderson pedaled a bike in 2009 4,000 miles across the United States. On the ride, he created motivational events in 21 national cities and interviewed over 200 people who had been recognized as going the extra mile in overcoming personal setback or who had risked everything in order to accomplish something extraordinary. After the ninety-day tour, Anderson personally gave away $10,000 of his own money to those people whose stories he found especially inspiring.
"I spent time with people who overcame tragedy…and created something great. I spent time with others who built extraordinary organizations based on their passion alone. All of these people had succeeded in walking life's hot coals…and they all succeeded in coming across to the other side determined to make a real life difference," Anderson says.
With a life mission of "empowering 1 million people to live a more passionate and purposeful existence," Anderson passionately cares about helping others win in life. He started his career motivating people by first motivating himself. Soon after graduating from University of California @ Berkeley and with only $300 dollars to his name, Anderson found himself working the graveyard shift at a 7-11 convenience store. While there, however, Anderson created a success accountability system that would change his life. Years later, Anderson shared his success system, S.O.A.R. (Seeing, Organizing, Acting, and Rejecting), in his book, SOAR to the Top! which has sold over 45,000 copies. He is the author of five books, and he reaches an international audience through his motivational newsletter that encourages people to take action on their dreams and to make them a reality.
Shawn Anderson is available for motivational speaking, corporate training, success coaching, and group fundraising.
# # #