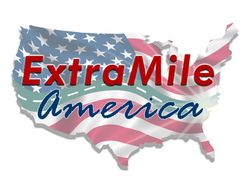 We all talk about wanting change…happiness…more opportunity
Marina Del Rey, CA (Vocus) September 21, 2010
One ideology for which mayors from both sides of the political aisle can agree is the power of the "go the extra mile" message. In association with the Extra Mile America Foundation, mayors from across the United States are coming together to declare November 1, 2010, Extra Mile Day. In a time when so many are demanding change and more opportunities, the Extra Mile America Foundation is reminding people that individuals and organizations have the power to create personal change through their willingness to do more, work harder and go the extra mile.
"We all talk about wanting change…happiness…more opportunity," says Extra Mile America Foundation Executive Director, Shawn Anderson. "However, relying on others to make that happen is only wishing for life to get better. Taking personal responsibility…and going the extra mile individually…is where true success is found."
In support of the November 1 day, Anderson is on a 2 ½ month speaking tour of the United States reminding people that real change in life does not come from a government program, a boss, or a spouse. It comes from "going the extra mile" and putting forth greater effort in all that we do individually. Set to speak 100 times between August and November 1 in cities from Los Angeles to Philadelphia, Anderson has already spoken to service clubs, high schools, churches, colleges, non-profit organizations, homeless shelters, and he has keynoted fundraising events.
"Shawn is dynamic in both his message and presentation. He is all heart and soul; a real person with whom we can all relate," says Gail Marshall, an Anaheim California Rotarian.
In total, the Extra Mile America Foundation has set a goal of having 100 U.S. cities declare November 1, 2010, Extra Mile Day…a day to recognize individuals in the community who have demonstrated an extra mile spirit in service and effort. Fifty-eight cities have currently done so.
"Times are tough for many people…no doubt. But the 'go the extra mile' message gives people an alternative to just throwing their arms in the air and saying 'I give up,'" Anderson says. "We all have the choice when times get tough to dig deep…do more…try harder…and affect practically every area of our life in a positive way."
First spreading the "go the extra mile" message across the U.S. in 2009, Anderson used a symbolic 4,000-mile ocean-to-ocean bike ride. On the ride, the 47-year-old, non-bicyclist created motivational events in 21 national cities. At these events, Anderson interviewed over 200 people who had been recognized as going the extra mile in overcoming personal setback or who had risked everything in order to accomplish something extraordinary. After the ninety-day tour, Anderson personally gave away $10,000 to those people whose stories he found especially inspiring. Many of these motivating stories are captured in Anderson's fifth book, Extra Mile America: Stories of Inspiration, Possibility and Purpose.
Anderson is available to speak on the motivational "go the extra mile" message between now and November 1.
# # #