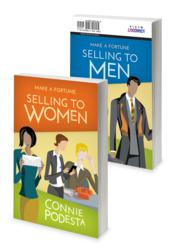 "Connie, your energy, insight, humor and enthusiasm inspired us!" - Direct Sellers Association
Dallas, TX (PRWEB) May 21, 2013
No one understand the differences between men and women like human relations expert, award winning author and worldwide motivational sales speaker Connie Podesta—especially when it comes to each gender's unique buying styles. "With more than 85% of today's buying decisions being made by women and the large influx of women moving into sales positions, being aware of gender differences is a huge advantage for both men and women when it comes to attracting new customers and closing the deal," says Connie Podesta. "I had already written Make a Fortune Selling to Women and it sold out almost immediately. I was ready to reprint and I kept getting request after request asking 'When is your book coming out to teach us how to sell to men?' So? I put them back to back—two books for the price of one! No excuses left!"
Unique is certainly in Connie Podesta's DNA. Her fun, "tell-it-like-it-is" delivery style, and right on target understanding of what makes people tick, turns what could be an ordinary business book into a delightful experience that literally takes the reader inside the minds of their customers so they have the knowledge and techniques to turn deal breakers into deal-makers.
"Make a Fortune Selling to Women/Men is unlike any book on sales I have ever read, and wait till you get to the selling to men part—a twist that I never expected As a guy who hates to shop—it's so true!"
Connie Podesta's newly revised How to Make a Fortune Selling to Women/How to Make a Fortune Selling to Men Book is making big waves in an industry where purchasing habits and trends are changing at the click of a mouse. Gone are the excuses that product, price, marketing or territory are the only reasons for diminished sales production. And gone should be the old ideas that men are the only ones holding the keys to the bank account. With her on-target humor, and a terrific "not-what-you-expect" twist – Connie keeps salespeople turning the pages and launching empowered new sales techniques and career-changing mindsets.
What sales and leadership teams won't find in Connie is the typical 'rah-rah' motivational speaker. Frankly, because that's not what salespeople need now. They need answers, real-world how-to's, powerful solutions for staying on track, self-motivation and customer insights. As an expert in human relations, communication and change, Connie Podesta helps bring a winning combination of tools, techniques and strategies to sales teams that are eager to embrace the skills that will take them to the top.
"Connie, your energy, insight, humor and enthusiasm inspired us!"- Direct Sellers Association
Top Sales Professional Today Must:

Recognize and respect gender buying differences
Understand that old habits and training will result in fewer sales
Be able to read the personality types of customers or prospects at a glance
Adopt to new cultures, communication styles and strategies
Recognize new buying trends and uncover new ways to get in FRONT of the curve
"I love speaking to sales organizations. The energy, enthusiasm and willingness to learn often fills the room," shares Connie Podesta. "It's exciting to see the 'light bulbs' come on as sales professionals connect with the ideas, strategies and fresh new mindsets that will help them grow their businesses and create the wealth and security they are looking for. I wrote this book just for them because seeing them succeed at their highest level is just an amazing gift for me, for them, their families and the organizations they represent. It doesn't get better than that!"
For more information on Podesta's schedule and availability or to purchase a copy of her captivating newly revised book How to Make a Fortune Selling to Women/How to Make a Fortune Selling to Men Book contact her team today at 972-596-5501, via email at info[at]conniepodesta[dot]com. Or visit her website online at http://www.conniepodesta.com.