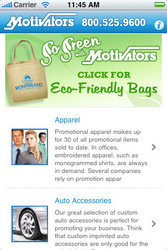 The Motivators mobile app puts promotional products at their fingertips, 24/7.
Westbury, NY (PRWEB) April 20, 2010
Motivators, Inc., a Westbury based Promotional Product distributor today announced its Motivators.com application is now available for download in the iTunes® App store. The specially designed app will allow users to easily search the Motivators website (motivators.com) for promotional products via their iPhone® mobile devices and iPod touch® models. Users can browse a sampling of the selection of promotional products offfered on Motivators.com, get product information and then send it to a friend via email. In the Contact Us section, users can access important company information such as phone numbers, fax numbers, email address and Twitter feeds.
The mobile app is just the latest example of the company's drive to be at the forefront of technology within the promotional product industry. At the heart of that drive is Motivators' in-house IT Department, led by IT manager Khurram Khan. "The increase in mobile searches has grown exponentially over the past few years," he said. "Users are looking for alternative ways to access the content they need and for many people, the first thing they look for is an app." Motivators CEO Ken Laffer, MAS agrees. "We want our customers to have easy access to our products and services at all times," he said. "The Motivators mobile app puts promotional products at their fingertips, 24/7."
The Motivators mobile app uses a clean and simple interface to display the same product categories that appear on the company's fully e-commerce enabled website. Customers can select any category and then continue on to see a sampling of that category's best selling products. Features includes:

Alphabetical listing of all categories seen on Motivators.com
Sampling of best-selling items in every category
Easy access to important company contact information including phone numbers, fax numbers, email addresses and Twitter feeds.
Product information, including product ID, description and price available for each item.
Push to email feature allows customers the ability to send an email link to the product to view on Motivators.com
The Motivators Mobile app is a free download available in the iTunes® store (http://itunes.apple.com/us/app/motivators-com/id367218197?mt=8) and can be accessed via the App store on iPhone® and iPod touch® devices by searching "motivators."
Motivators, Inc. is an award-winning Promotional Products distributor based out of Long Island, NY. For nearly thirty years, Motivators has been providing branding solutions for Fortune 500 companies. The company's full service website, Motivators.com offers over 40,000 e-commerce enabled promotional products.
###