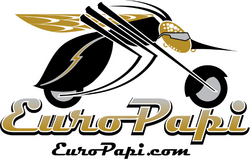 The EuroPapi brand targets a new generation of bikers. Very daring and conquering, who live life to the fullest. Lovers of action sports with a hint of risk, such as MotoGP and Formula 1.
Los Angeles, CA (PRWEB) May 18, 2010
The EuroPapi Stand at the May 2, 2010 MotoGP in Jerez was among the most visited and talked about, recognized for bringing something new and different to the sport. With half a million spectators in attendance, many commented on the fun and colorful designs.
The EuroPapi clothing line is an infusion of Motorcycles, Scooters, Skating & Surfing Culture all in one. The creator of EuroPapi is Rolando Ortiz, a Californian who has lived the whole spirit of Huntington Beach, home of big brands linked to surfing and skateboarding success such as Volcom, Hurley and Quiksilver.
The 2010 collection is a fun and amazing mix of jackets, t-shirts, jeans, caps, and wristbands (in the shape of motorcycle tires and chains) ... these can be viewed in the virtual store.
EuroPapi.com also has a virtual community where visitors can go to download videos, photos, free ringtones, upload pictures and videos, Battle of the Bands, a classified section for motorcycles and scooters, post in a forum, and communicate with friends who have the same interests all around the world.
The EuroPapi search for worldwide distributors is underway. Dealers chosen must be connected to the fashion industry in the field of motorcycling, racing, surfing and skateboarding. In Spain, the areas of interest are Madrid, Barcelona, Seville and Valencia. Italy is a very important market for EuroPapi with Rome, Naples and Milan as a priority. In Europe: Lisbon and Porto in Portugal, Paris, Munich, London, Athens, Brussels and Amsterdam. In the Americas: New York and Los Angeles in the United States, Mexico City and Buenos Aires. In Asia: Tokyo and Hong Kong. In Australia: Melbourne and Sydney. In South Africa: Cape Town.
EuroPapi is also searching for multi-national service/gas/petrol stations to carry counter top displays containing EuroPapi wristbands in the shape of motorcycle tires and chains.
Any retailers interested in carrying EuroPapi products should contact distributors@europapi.com.
####