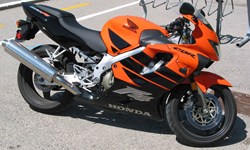 The licensing laws for motorcycles are set to change on January 19th 2013.
(PRWEB UK) 9 January 2013
Traditionally, the months of March and April are the peak months for motorbike insurance activity and although this is still a few months away, Tiger.co.uk is encouraging riders to make preparations in advance. With Spring around the corner and new registrations out in March, motorbike insurance is only one part of getting ready for the new bike season. Motorbike riders are also being warned to familiarise themselves with new licensing laws that could have an implication of the class of bike they are able to ride.
The licensing laws for motorcycles are set to change on January 19th 2013. The new licence rules will affect all riders who pass their test after this date or any riders who need to renew or replace their existing licence after this date. The new licence changes cover amendments to the categorisation of motorcycles (engine power output and power to weight ratio) and also the age and previous experience of the rider. For example, under the new laws there will be two routes to getting Category A motorcycle entitlement:

Direct access: Riders must be aged over 24, have a valid CBT certificate and pass the theory and the category A practical motorbike tests.
Progressive access: From 21 years of age if a rider has a minimum of two years experience on a category A2 motorcycle, holds a full licence and passes the category A practical test.
For more information on how the new licensing rules will affect moped, motorcycle and tricycle riders, visit Tiger.co.uk and read the Guide To UK Motorcycle Licences.
Andrew Goulborn, Commercial Director of Tiger.co.uk. commented: "The aim of the new licensing laws is to improve the skills and therefore the safety of new motorcycle riders. This can only be good news when it comes to things like the cost of motorcycle insurance as improved safety on the roads will decrease the risk of accidents and therefore lessen the frequency of claims. Riders should make sure that they are familiar with the new laws and what category of motorbike they are entitled to ride. If you are in any doubt, visit the Tiger.co.uk site and read our guide to UK motorcycle licences."
About Tiger.co.uk:
Tiger.co.uk is a trading name of Call Connection Ltd. Tiger.co.uk is a UK based, independent car insurance comparison site, offering insurance quotes from over 150 motor insurance brands. Call Connection Ltd is authorised and regulated by the Financial Services Authority (number 308374).
Attribution: http://www.nidirect.gov.uk/new-driving-licence-rules-for-mopeds-motorcycles-and-tricycles