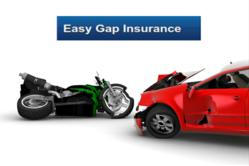 Motorbike Gap Insurance is traditionally hard to find
Wirral, UK (PRWEB UK) 23 July 2012
Aequitas Automotive Ltd, who provide Guaranteed Asset Protection products through the EasyGap and GapInsurance123 brands in the UK, have announced a new range of Motorbike Gap Insurance policies for UK consumers.
This form of specialist insurance protect policy owners against financial loss if their vehicle is stolen, or in an accident, and 'written off' by a motor insurer. Gap protection can offer cover against this, but is difficult to find in the UK for motorbikes. However, Aequitas Automotive Ltd have new policies available for higher risk vehicles such as these, as a member of their team explains.
"Traditionally Gap Insurance for motorcycles is something that insurers have not been keen on providing. The risk associated with motorbikes has always been high for gap cover, as there is a greater chance of a motorbike being written off than an equivalent priced car.
We are fortunate to be able to offer policies underwritten by two different insurers, who are specialists in this field. This allows for the 'risk' to be spread across the number of policies we sell, so we are able to expand our product range accordingly. We have a range of policies that mirror the options available to car buyers also."
For motorbike owners the summer is the most popular time to buy a new vehicle, and often they seek to protect the depreciation that they may suffer with gap protection. However cover offered by dealers can be restricted to one type of gap protection.
The new Aequitas range allows for Finance Gap, Contract Hire Gap, Return to Invoice and Vehicle Replacement Gap Insurance options for motorbikes. This new range now offers a significant choice to motorbike owners, normally not available at motor dealers.
As the choices of this type of insurance increases, as does the information available for bike owners on gap insurance for motorbikes.
Aequitas Automotive report that the new range of products has been greeted enthusiastically by their customers, and that the recently expanded facility for interest free payments have added to this.