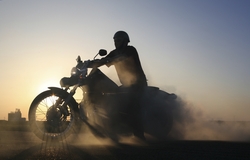 (Vocus) December 6, 2007
If you want to go faster, fitting a nitrous oxide system (NOS) to your motorbike is a serious modification that delivers big in terms of power.
Well established in the modified car market (think Batmobile and the Fast & Furious films), it's also popular in the custom bike scene -- with everyone except the insurance companies. Now Bikesure has launched a scheme that will insure your NOS-powered bike, even with the system connected for road use.
The problem has been that no insurer would cover a NOS-powered customised bike on the road, unless you disconnect the system. ''Which is a bit useless really,'' points out Robert Balls of Bikesure. "Our sister company, Flux, already insured cars with NOS for road use, so we decided to create a scheme that would do the same for bikers".
"As far as we know, we're the only bike insurance specialist that offers NOS cover for road use."
But Bikesure is not advocating speeding. ''We already insure high speed, high performance bikes. NOS is simply another way to boost performance, like a turbo, blower or hypercharger,'' adds Robert Balls. "We're happy to support bikers who customise their bikes and, provided the mods are road-legal, we think insurers should cover them."
"What's really important is that modifications like NOS are kept in the open, so that they can be monitored for safety," he says. ''The danger is that bikers might fit a performance booster and try to hide it, or not declare it, for fear it's not legal.''
Bikesure recommends that NOS systems are bought from bona fide suppliers such as Wizards of NOS (http://www.noswizard.com). Before offering insurance, Bikesure will require details of the make and model of nitrous oxide system fitted.
How much will Bikesure's NOS insurance cost? As a rough guide, it adds the same percentage to your premium as the system adds to your power. So if it increases the bike's BHP by 50%, then the premium will go up by (very roughly) around 50%.
Bikesure has a huge range of specialist policies for the motorcycle enthusiast, including cheap insurance schemes for high performance bikes, custom bikes, scooters, trikes, quads and bug riders. For details freephone the Bikesure quote line on 0800 089 2000, e-mail the company at bikesure@ adrianflux.co.uk or visit http://www.bikesure.co.uk
Press information, digital files, photos, etc. available on request from bikesure@ publicityworks.biz
# # #