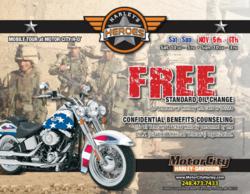 Honoring our Heroes not just today, but everyday.
Farmington Hills, MI (PRWEB) October 30, 2011
Military Veterans in the Detroit Metro area can receive free counseling and assistance with their government benefits when Harley-Davidson and Disabled American Veterans (DAV) bring the Harley's Heroes® program to the Motor City Harley-Davidson on Sat., November 5th, 2011 from 10 AM to 5 PM & Sun., November 6th, 2011 from 10 AM to 3PM. DAV National Service Officers will provide benefits counseling to those veterans who suffer from service-connected injuries, but may have never filed a claim for benefits or have found it difficult working through the red tape.
During this weekend event, MotorCity H-D will have refreshments, door prizes, and fundraising for the DAV. Free oil changes are being offered for all Military Veterans during the event (please bring a valid Military ID card or DD214 for free oil change). MotorCity H-D also offers a free program called "Operation Extend the Ride". This program is for Harley-Davidson motorcycle owners on active military duty, whose factory warranties expired while deployed in a combat zone. For more information, visit http://www.motorcityharley.com or call 248-473-7433. Those that would like to make a donation to the DAV, a donation page has been created. All donations go directly to the DAV.
MEDIA OPPORTUNITY – HARLEY'S HEROES November 5th & 6th

WHAT: 2011 Harley's Heroes® visits Farmington Hills and DAV to provide FREE
benefits counseling services to local veterans

WHERE: Motor City Harley-Davidson 34900 Grand River Ave., Farmington Hills, MI
WHEN: Saturday, November 5th, 2011 from 10 AM to 5 PM & Sunday, November 6th
from 10 AM to 3 PM.

WHO: Local veterans and veteran riders who could benefit from DAV services
Harley's Heroes is made possible with the help of a $1 million grant from the Harley-Davidson Foundation to Disabled American Veterans (DAV). The Harley's Heroes program travels throughout the United States, visiting over 273 Harley-Davidson dealerships to date, where benefits assistance is offered to veterans of all ages in communities where they live. The Harley's Heroes mission is to provide assistance for all veterans in obtaining benefits from the Department of Veterans Affairs (VA) and to show appreciation for their service and sacrifice to our country.
Injuries suffered during military service sometimes take years to manifest or go years before being diagnosed. Many veterans have their injuries go untreated or uncompensated. Thanks to the DAV's free services, veterans can get the help they need.
About Disabled American Veterans (DAV) - The 1.2 million-member Disabled American Veterans, a non-profit organization founded in 1920 and chartered by the U.S. Congress in 1932, represents this nation's disabled veterans. It is dedicated to a single purpose: building better lives for our nation's disabled veterans and their families. More information is available at http://www.dav.org.
###