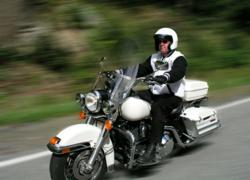 San Diego, CA (PRWEB) April 27, 2013
A motorcyclist was hospitalized on Tuesday after colliding with an SUV near i-80 in Sparks, Nevada, according to a report from CBS. The accident occurred at approximately 1:45 p.m. on Rock Boulevard. According to police, the SUV was making a left turn onto the freeway and failed to yield to oncoming traffic. As a result, the motorcycle collided with the side of the SUV.
According to the report, the motorcyclist was taken to the hospital and treated for a broken leg. The victim has not been identified, but the injuries are not being reported as life-threatening. The crash briefly led to the closure of the I-80 eastbound on-ramp.
San Diego motorcycle accident lawyer Jeff Nadrich recently commented on the incident, and offered some words of advice to all motorcyclists. According to Nadrich, "The details of this specific accident are still under investigation, and we can't jump to judgment about who is at fault, but the situation does raise an important issue.
Nadrich's words echo the sentiment of Sparks Lt. Chad Hawkins, who offered the following advice to CBS: ""Make sure you really check the corners and the blind spots of your vehicle because the motorcycle can get in there and it's really hard to hear or see them, so just be sure you're aware of your surroundings."
"Motorists have a responsibility to share the road, and when an automobile driver fails to yield to a motorcyclist's right of way, it becomes a legal matter as well as a safety matter. Injured motorcyclists are quite often entitled to compensation in the event of an accident."
Nadrich encourages all injured motorcyclists to contact a qualified personal injury attorney to discuss the complex legal details.
About Nadrich & Cohen: Jeffrey Nadrich is a San Diego motorcycle accident lawyer with Nadrich & Cohen, a California based law firm with offices in 18 locations across California. The firm has offices in Arcadia, Bakersfield, Fresno, Irvine, Long Beach, Modesto, Oakland, Oxnard, Palm Springs, Redding, Riverside, Sacramento, San Bernardino, San Diego, San Francisco, San Jose, Santa Rosa, and Tracy. Nadrich & Cohen handles all types of wrongful death and serious injury accident cases, including auto, truck, bus, motorcycle, and bicycle accidents, pedestrian collisions, boating accidents, dog bites, defective product cases and nursing home abuse. Victims are encouraged to call 1-800-718-4658 for a free consultation with a Nadrich & Cohen attorney.