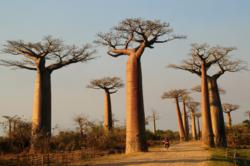 On our motorbikes we get totally immersed in the countries we transit through, spend heaps of time with the locals, find language is no barrier so long as you smile and bring joy to people
Wellington, New Zealand (PRWEB) September 19, 2012
Global motorcycle adventurers and philanthropists Jo and Gareth Morgan, are about to start their next motorcycle adventure and this time they are traveling on motorbike around Madagascar, an island nation in the Indian ocean off the southeast of Africa.
Hailing from New Zealand, Jo and Gareth are no strangers to traveling on motorbikes in random places. Back in 2005 they completed an epic ride traveling via motorbike in the footsteps of Marco Polo from Venice, Italy to Beijing, China. Their travels have also taken them to around much of the US and Canada, through every country in South and Central America, up Africa, through Russia and Europe and even to Antarctica.
Last time in Africa, Gareth and Jo missed the opportunity to go to Madagascar, something they did not want to pass up twice.
"Madagascar has always been a country we've felt needs to be done. Having been in the Galapagos the next best hotspot for biodiversity is Madagascar so that will be the focus of this ride. There is not a circular route either so it's a bit of a hub and spoke series of rides from Antananarivo. Still at twice the size of New Zealand and with 20 million people, it will be interesting to see how thrashed the environment there has become. Besides we need to get some riding practice in for a larger "Long Drop" ride we are doing next year, from the northern most part of the Russian Far East down to New Zealand. "
"After Madagascar we're heading back to Tanzania to check out the results of the water and sanitation project work our charity, The Morgan Foundation has been funding through UNICEF.
Riding motorcycles around the world is something Jo and Gareth have doing for 12 years now and Gareth says "there is no way we're giving it away until we lose our balance. Frankly both of us could just live on the road, and if there wasn't so many other exciting things to be doing, we would."
"On our motorbikes we get totally immersed in the countries we transit through, spend heaps of time with the locals, find language is no barrier so long as you smile and bring joy to people. Ironically the poorer people are the more generous they are and certainly the more fun we have together. I guess we're such a novelty that it breaks the tedium of their very difficult lives - while for us it just adds to our knowledge of peoples and places in a way that can't be got from watching the Discovery channel. It's a huge privilege"
Jo and Gareth will be blogging about their adventure on their motorbike adventure travel website . Jo and Gareth have also publish several books about their motorcycle travel adventures which are available at - World by Bike, http://www.worldbybike.com