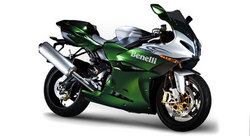 We have enjoyed 10 years of growth with Victory, and we're proud of our legacy dealer status.
Cerritos, CA (PRWEB) October 7, 2008
Cycle Dragon Motorsports, a full service motorcycle dealer, announces the addition of several new motor bike lines to its already impressive line up of Victory and Hyosung brands. Additionally, Cycle Dragon announces the launch of a newly re-designed Web site that features a photo-rich online motorcycle showroom for each product line, and an event calendar and gallery that is focused on bringing together the local biker community.
"It has been an exciting year of growth in the bike business with fuel costs driving up motorcycle and scooter sales. People are looking for ways to save money at the gas pump and our bikes are certainly a fun way to do that," said David Darling, marketing coordinator at Cycle Dragon Motorsports. "We are proud to announce two new high-end motorcycle lines in Arlen Ness and Benelli. These bikes are two of the most unique, specialized, and fun bikes you will ever ride."
Rising gas prices has been credited for significant sales growth for most motorcycle and scooter makers over the past 2 years. Some manufacturers have reported increases of as much as 18 to 60 percent from 2006 to 2008.
American custom bike designer Arlen Ness, based in Dublin, California, is famous for building ultra cool original bikes with a dramatic flare. "We are excited about carrying the Ness Lowliner V, an absolutely amazing new motorcycle that's powered by Victory's latest 106-cubic-inch engine and 6-speed transmission," said Mr. Darling. "Everyone who sees this sweet ride practically drools over all the chrome and custom finished paint job." The limited edition Lowliner V from Arlen Ness motorcycles can be special ordered and fully personalized at Cycle Dragon.
The second new line comes from Italian super sport bike maker, Benelli. They are famous for building some of the fastest motorcycles on the market and have a long heritage of building motor bikes that dates back to 1911. Handcrafted Benelli motorcycles are high-performance machines that offer everything you need to compete for king of the track at your local raceway. Among the Benelli models featured by Cycle Dragon are the Café racer, a classic street race inspired bike, and the super sport bike, Tornado TRE, which is capable of acceleration from zero to 60 miles per hour in 3 seconds.
Cycle Dragon also carries Victory and Hyosung lines at its new shop which serves bikers in surrounding Orange County (OC), Los Angeles (LA) County, and all of Southern California. The family owned motorcycle dealer was established in 1989 and is currently celebrating its 1-year anniversary at its new location, 15979 Piuma Avenue, Cerritos, CA. Previously known as AT Motorsports, Cycle Dragon is considered a legacy dealer with Victory motorcycles.
"Victory has been a great flag ship product for us," continued Mr. Darling. "We have enjoyed 10 years of growth with Victory, and we're proud of our legacy dealer status." Victory, from Polaris Industries, is celebrating its 10th anniversary in 2009. Promoted as 'the new American motorcycle,' Victory bikes are known for modern yet classically designed street cruisers and touring bikes including the Victory Vision, Hammer, 8-Ball, Jackpot, and Vegas to name a few.
With a sharp contemporary look Hyosung motorcycles and scooters are easy to ride and have been well received with the younger crowd and newer riders. For this reason the Motorcycle Safety Foundation has chosen the Hyosung 250 as the official teaching bike their new motorcycle training location in Inglewood, CA. MSF plans to offer the standard weekend format and is adding a training course on Tuesdays and Wednesdays. Cycle Dragon has already prepped and delivered 4 Hyosung GT250 Comets and plans to add the Hyosung GV250 Aquila in the near future.
Besides moving to a new location and renaming the company, Cycle Dragon has invested heavily in establishing a presence on the Internet. The company's new Web site (http://www.CycleDragon.com) was launched in mid 2007 and was updated with a complete makeover last month in preparation for expected growth in 2009. The new site features an online showroom that contains a plethora of up close and personal bike images to give users a virtual hands-on experience for each bike. Readily accessible is a "Go for a test ride" request feature that makes it easy for users to set up an appointment for a test ride.
"We are the only dealer that we know of that offers test drives for all of these brands of motorcycles," stated Mr. Darling. "And we've added many new brands to our secure online Web store such as Fieldsheer and KBC, as we strive to deliver a broader selection of apparel and accessories for our customers."
The Web site also features a Motorcycle Events Calendar that covers local motorcycle club bike nights, bike rides, rallies, bike tradeshows, and in-store events and special promotions. Closely related to the calendar will be the Cycle Dragon Photo Gallery which will chronicle the events, also highlight striking custom bikes crafted by the talented customization team.
"Our goal is to become more involved in the community and create opportunities for our customers to come together and to ride together. Our mission is to provide top quality motorcycles and excellent service and to help our customers enjoy their riding experience to its fullest. From stock to fully custom, we aim to lead the industry in customer satisfaction. We love what we do and we want you to love what you ride," finished Mr. Darling.
About CycleDragon.com:
Cycle Dragon Motorsports is a full service motorcycle dealer specializing in selling Victory, Benelli, Ness, and Hyosung motorcycles and offering top-quality parts, accessories, and exceptional service including custom design, modifications and mechanical repair. Cycle Dragon's complete service facility and hands-on showroom is conveniently located in Cerritos, CA, to serve bike riders in Orange County (OC), Los Angeles County (LA), and all of Southern California. For more information, visit http://www.CycleDragon.com.
###