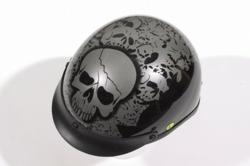 "Motorcycle Helmet Law - Where do you stand?"
New Jersey (PRWEB) April 03, 2013
As riders understanding that wearing a helmet is a soreness. However, more than 90% of the time motorcycle helmet will save a life. Companies strive to provide the latest and safest helmets out for the road. The helmet design is made with biker in mind.
See See Motorcycles is preparing a cool event for bikers; to show off their 21 helmets for 2013. All 21 helmets are customized by 21 different artists. The past 21 Helmets event were amazing, and encouraged bikers to wear helmets. When watching the video an awesome wooden helmet appears in the collection; which shows that crossing boundaries to create the best is allowed. Creating a helmet that is comfortable and appealing to bikers eyes is a challenge. Surely 21 Helmets will have both style, and comfort helmets at the event. The date for 21 Helmets event is Friday, December 1st at 5 p.m. in Portland Oregon.