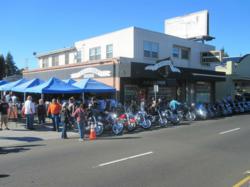 We take pride in your protection with top notch American-made leather gear.
San Jose, CA (Vocus/PRWEB) April 08, 2011
Just Leather, a Bay Area motorcycle leather store in San Jose, is throwing a parking lot sale at their 2370 Stevens Creek Boulevard store in San Jose on Sunday, April 10 from 10 am to 2 pm. The annual event will feature 50 to 70% savings off everything. Shoppers will start their day with free coffee and donuts.
"We take pride in your protection with top notch American-made leather gear," said Tracey Mann, co-owner of the Just Leather in San Jose, "No size is too big or too small. We can fit anyone. We make custom jackets, chaps, pants, vests and leather shirts and Custom saddlebags.
The Bay Area leather store's annual parking sale is a great opportunity for bikers or anyone interested in leather apparel in the Bay Area to purchase affordable leather products. The four hour event features 50 to 70% off leather products offered by Just Leather, making it a unique sale for motorcycle enthusiasts.
Just Leather started as a dream of Jerry and Claire Mann out of their love for motorcycle riding. The doors of the store opened in May of 1967. The couple's three children Debbie, Mark and Joel came to the shop every day after school to do homework and learn the family business after Jerry's retirement and Claire's passing. Today the Bay Area motorcycle shop is run by Mark and his wife Tracey and the rest of the family.
In addition to leather apparel, Just Leather carries everything from gifts to novelties, T-shirts, sweatshirts helmets, gloves, boots, riding glasses to head wraps and even collectibles.
For more information about Just Leather's annual parking lot sale on April 10 or any of their products and services, call them at (408) 286-3450, visit them on the web at http://www.justleathers.com, or come by their store located at 2370 Stevens Creek Boulevard in San Jose.
About Just Leather
Just Leather is a family-owned Bay Area motorcycle shop that specializes in American-made leather gear. The Bay Area leather store provides custom fittings, alterations and repairs.
The coffee is always on.
# # #