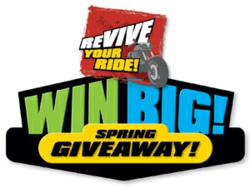 Thanks to our MIC aftermarket members, this tremendous promotion again drove thousands of customers into dealerships everywhere, which was exactly what it was supposed to do.
Anaheim, CA (PRWEB) September 28, 2011
Kendon Industries, Inc., the innovator of Stand-Up™ motorcycle lifts and folding trailers, is pleased to congratulate Carol Burt, the winner of a Stand-Up™ motorcycle lift as part of her 8th place prize package in the recent Revive Your Ride WIN BIG Spring Giveaway promotion. Created and funded by the Aftermarket members of the Motorcycle Industry Council (MIC), the Revive Your Ride WIN BIG Spring Giveaway was designed specifically to build excitement for two-wheeling and to bring the riding community back to motorcycle, ATV, side by side, service and aftermarket retailers. Kendon is very proud to again be a part of this wonderful promotion and assist the MIC with the donation of a folding motorcycle lift.
Kendon is one of the dozens of MIC aftermarket companies involved with helping make this year's promotion bigger and better than ever with its donation of the Stand-Up™ bike lift. The winner of Kendon's folding lift is Carol Burt from Houma, Louisiana and a patron of Cycle World of Houma. Carol received a choice of any one of the four motorcycle lifts currently offered in the Kendon product line.
"Congratulations to Carol Burt and Cycle World of Houma," said Kendon President Frank Esposito. "We're honored to have been a part of this year's WIN BIG Spring Giveaway. Last year's promotion was a great success and this year it was even bigger. The promotion created excitement about riding and brought new and existing customers back into dealers. This year, there were even more incentives for customers, since they had the chance to win one of our motorcycle lifts or one of a hundred other great products, including the $5,000 Grand Prize!"
Started in 2010, Revive Your Ride is the industry's first-ever collective promotional campaign. This year's Revive Your Ride WIN BIG Spring Giveaway Grand Prize was a $5,000 pre-paid debit card. In addition to the Grand Prize, more than 100 products were donated by MIC aftermarket member companies for giveaways, ranging from leather jackets and helmets to motorcycle stands, windshields and saddlebags to magazine subscriptions and more.
Kendon's motorcycle lifts are an exciting product that fits with the Revive Your Ride promotion very well. An enthusiast does not have to be a mechanic in order to benefit from using one of Kendon's bike lifts. The Kendon folding motorcycle stand is perfect for anything from basic detailing to full maintenance to displaying your bike or cleaning. It allows for a safe, high capacity, working area with up-close access to a motorcycle. Kendon's various motorcycle lift models come equipped with a 600 to 1000 pound capacity and are capable of easily lifting anything from a small scooter to a heavyweight touring motorcycle.
"Congratulations to everyone who participated in the Review Your Ride promotion this year," said Frank Esposito, Kendon President and MIC aftermarket committee chair. "Thanks to our MIC aftermarket members, this tremendous promotion again drove thousands of customers into dealerships everywhere, which was exactly what it was supposed to do. Although this was only the second year, we still saw a dramatic increase in participation from MIC member companies who donated $40,000 in cash, cool products and great services as giveaways. We are already looking forward to the fall promotion beginning October 1 through November 30 and hope to use the momentum from this promotion to make the next Revive Your Ride event even better."
Kendon Industries actively supports the motorcycle industry through its membership in the MIC and Frank Esposito's direct involvement as both a board member and the aftermarket committee chair of the MIC. Kendon is celebrating its 20th year in business and has just released a new line of trailer accessories and two brand new motorcycle trailers.
Kendon is very excited to again be a part of the 2011 Love Ride. Kendon is donating a bike lift and frame jack which will be offered as one of 9 prizes for the top fundraisers at the Love Ride on October 23, 2011 in Castaic Lake, California. The Love Ride is expected to draw thousands of enthusiasts from the Southern California region, including celebrities such as Jay Leno, Peter Fonda and Robert Patrick. Kendon will be displaying its bike lifts and the brand new, exciting, made in USA Ride-Up Single SRL and Limited Edition Dual motorcycle trailers on location in Castaic Lake.
About the Motorcycle Industry Council (MIC)
The Motorcycle Industry Council (MIC) exists to preserve, protect and promote motorcycling through government relations, communications and media relations, statistics and research, aftermarket programs, development of data communications standards, and activities surrounding technical and regulatory issues. As a not-for-profit, national industry association, the MIC seeks to support motorcyclists by representing manufacturers and distributors of motorcycles, scooters, motorcycle/ATV/ROV parts and accessories, and members of allied trades such as insurance, finance and investment companies, media companies and consultants.
The MIC is headquartered in Irvine, California, with a government relations office adjacent to Washington, D.C. First called the MIC in 1970, the organization has been in operation since 1914. Visit the MIC at http://www.mic.org.
About Kendon Industries, Inc.
Established in 1991, Kendon Industries, Inc. is proud to celebrate its 20th Anniversary this year with the unveiling of a Limited Edition Dual motorcycle trailer. Kendon provides an engineered solution for the handling and transportation of motorsports vehicles that fit lifestyles and homes of the average enthusiast. Kendon lifts ease your working position by allowing you to sand and not kneel for anything from basic care and maintenance of your motorcycle to heavy duty work on your motorcycle while the Kendon trailers expand your adventure as an enthusiast by allowing you to take your vehicle to new riding locations. Enjoy more of your passion with Kendon.
Kendon is proud to hold more than two dozen United States Patents on its products. Kendon is recognized as the industry leader in the USA for high quality fold-up Stand-Up™ Trailers and Motorcycle Lifts. Kendon's complete line of trailers is designed and Made in the USA. For more information visit KendonUSA.com. Like Kendon on Facebook at facebook.com/KendonIndustries
# # #