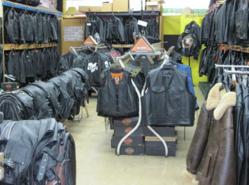 If you have never been to see us, honestly you are missing out, it is worth the drive. Just ask any of our loyal customers, this is a great place to shop
San Jose, CA (Vocus/PRWEB) June 18, 2011
Just Motorcycle Leather, a family owned local business for the past 44 years in San Jose, announces a complementary old fashioned summer barbecue on Saturday, July 23rd. This event is part of their Second Annual Customer Appreciation BBQ and will be held from 11 a.m. to 2 p.m.
While they are busy "shopping 'til they drop" on all their motorcycle leather apparel needs, customers can enjoy some yummy and mouthwatering barbecued food cooked with love and provided by the family of Just Leather.
"If you have never been to see us, honestly you are missing out, it is worth the drive. Just ask any of our loyal customers, this is a great place to shop," said Tracey Mann, co-owner of Just Leather.
Customers will truly enjoy the day, sitting under shaded canopies and enjoying lunch while catching up with old friends and meeting new ones. Everyone will be amazed at the prices for the quality hand crafted American-made merchandise sold by Just Leather. They also cater to the sport bike enthusiasts as they carry, or can order, anything for the sport bike rider.
Just Leather is also offering various discounts on boots and as other motorcycle riding gear, ranging from gloves, t-shirts, sweatshirts, riding glasses and many other different novelty items. They carry pretty much anything one can think of for the motorcycle enthusiast. Just Leather believes that seeing is believing and once customers check them out, they will be customers for life.
So on July 23rd, customers are invited to save money and satisfy their appetites with a delicious meal, allowing them to check two items off their to-do list in one stop.
For more information, call (408) 286-3450 or visit Just Leather's website at http://www.justleathers-bayarea.com. You can also Like them on Facebook. Search "Just Leather."
About Just Leather
Just Leather offers hand-crafted, American-made leather and motorcycle products. They provide alterations, custom fits, and repairs. We also have saddlebags, tool bags, sissy bar bags, and much more. Just Leather is the number one motorcycle riding apparel provider in the Valley. When people think of "motorcycle leather" in San Jose, they think of "Just Leather."
###