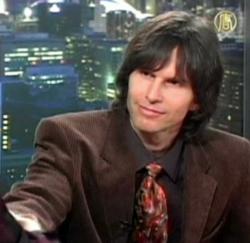 Cancer-controversial ELF EMFs flooding millions of motorcyclists is unacceptable especially for avid rider cancer survivors and chronic illness patients
(PRWEB) May 17, 2010
Patent-granted Canadian Randall Dale Chipkar discovered a motorcycle-melatonin link raising red flags for the motorcycle industry worldwide. Rider health concern includes cancer, colitis, crohn's, hypertension, heart disease, diabetes, impotence, etc. Chipkar developed the Electromagnetic Pro-Ionization Principle for motorcyclist safety from ELF EMF magnetic field radiation exposure.
"The YouTube motorcycle cancer risk videos prove excessive ELF EMF magnetic field radiation above motorcycle seats," says motorcyclist Randall Dale Chipkar. "Cancer-controversial ELF EMFs flooding millions of motorcyclists is unacceptable especially for avid rider cancer survivors and chronic illness patients," adds Chipkar.
"Melatonin is our cancer-growth fighting hormone. Various extremely low frequency electromagnetic fields (ELF EMFs) disrupt the synthesis and role of melatonin increasing the risk of illness and cancer. The gastrointestinal tract (GIT) is our main supplier of both paracrine and endocrine melatonin which are vital for inhibiting cancer-growth throughout the body," Chipkar says.
"Motorcycle ELF EMFs also penetrate bone marrow melatonin. Bone marrow melatonin controls oxidation and cytotoxicity for developing red blood cells, white blood cells, stem cells, dendritic cells, B-cells, T-cells, NK-cells, etc. which are crucial for immune system defense against pathogens, disease and cancer," adds Chipkar.
"People have a right to physiological integrity without synthetic electromagnetic intervention. Presently there are no rational regulations whatsoever to protect motorcyclists from oscillating-current excessive ELF EMF magnetic radiation emission penetrating the groin and entire torso. The spirit of motorcyclist safety needs to encompass emerging technological health issues to confirm consumer confidence," says Chipkar.
"A new classification of pro-ionizing radiation is appropriate. For a more practical evaluation of non-ionizing radiation, I developed the Electromagnetic Pro-Ionization Principle to assist in public health risk reassessment: When various non-ionizing, non-thermal electromagnetic exposures promote adverse ion/electron bio-effects that affect health over time, such radiations warrant emission identification, pro-ionizing sub-classification, and health risk recognition for public safety conservation," Chipkar says.
"Prolonged ELF EMF-melatonin exposure concern includes breast cancer medication interference, breast cancer, ovarian cancer, endometrial cancer, colon cancer, kidney cancer, prostate cancer, pancreatic cancer, depression, migraines, immune deficiency, ileitis, inflammation, ulcers, gastrointestinal disorder, free radicals, blood disorder, yeast, arthritis, osteoporosis, oxidative stress, PMS, gallstones, degenerative disease, apoptosis, Alzheimer's, Lou Gehrig's, Non-Hodgkin's, Parkinson's, multiple sclerosis, lymphoma, melanoma, leukemia, fibromyalgia, etc. Melatonin compromise also affects seratonin, insulin, glucose, testosterone, estrogen, adrenaline, etc.," says Chipkar.
"Conquering cancer requires our utmost attention concerning any potential cancer causation, cancer-growth promotion or cancer medication disruption. Cancer metastasis targets bone marrow, brain, liver, lungs, lymph nodes, etc.," Chipkar adds.
Randall Dale Chipkar can be seen in a YouTube motorcycle cancer television interview part 1. You can see part 2 of the interview at the motorcycle cancer video page for rider safety. Randall Dale Chipkar developed The Motorcycle Cancer Risk Worldwide Petition to encourage the motorcycle industry for safer vehicles. Please visit Motorcycle Cancer Risk for further information.
Contact:
Randall Dale Chipkar
The Motorcycle Cancer Book
Chipkar Health Concepts Limited
http://www.motorcyclecancer.com
# # #