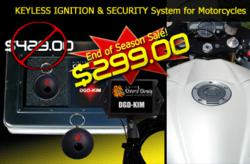 World Leader in Keyless Technology
Folsom, CA (PRWEB) September 12, 2012
Been waiting for the right opportunity to purchase Keyless Ignition & Security technology for a motorcycle? This is it!
Digital Guard Dawg is looking to close out the riding season on a high note, by offering their award winning Keyless Ignition & Security systems at the lowest price ever.
The DGD-KIM Keyless Ignition & Security system makes the need for Ignition keys a thing of the past. Using RFID security technology borrowed from Mercedes and Corvette, it gives the rider the freedom to just "Get on and ride, then get off an just walk away" No more keys to search for, scratch paint or chrome, fumble with or lose. Just carry the systems RFID "Dawg Tag" and the motorcycle's ignition operates automatically without ever needing a key. Once the "Dawg Tag" is with in proximity of the bike, just flip the run switch, thumb the start button and the motorcycle is ready to go. Kill the engine and just walk away and all security arms! These units normally sell for $429.00, but during the end of season clearance, keyless technology can be added to a bike for only $299.00 including free shipping.
Digital Guard Dawg is looking to give back to those that dedicate so much of their time to riding, by offering the largest discount ever on this popular product. Go keyless today!