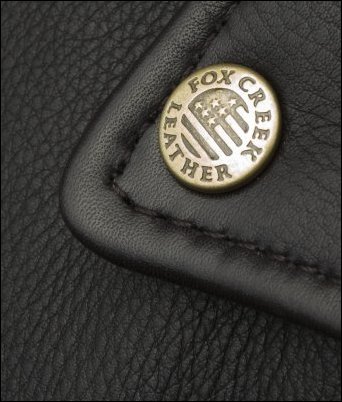 We had to stop hiring people because there was not enough space to put more desks
Independence, VA (PRWEB) November 15, 2006
Bikers try to escape traffic, but motorcycle leather company Fox Creek Leather is capping off a year of remarkable growth thanks to a tremendous amount of traffic - the good kind.
The small, independent outfit based in the heart of Virginia's Blue Ridge Mountains is projecting $2 million in revenue this year, with more than 7,000 new visitors to its website daily. The 20-year-old company, known for its high quality, American-made leather motorcycle jackets, vests, chaps and other gear, today launched operations out of a new headquarters and retail center that it hopes will attract riders exploring the scenic back roads of Grayson County.
Previously run out of the barn where it was founded in 1986, family-owned Fox Creek holds a golden reputation among motorcycle enthusiasts, as one of only a handful of companies that outfit riders with top notch, American-made apparel. In 2001, after nearly two decades selling Fox Creek products at biker rallies, swap meets and drag races across the country, owner Paul Trachy took his son's advice and embraced the internet. In just a few years, the company's revenue has jumped ten-fold from its one-time average of $250,000, thanks almost entirely to website sales.
Now, Fox Creek is enhancing its real world visibility with its new $400,000 facility, which is housed in a retrofitted 1930's-era motel. The 7,000-square-foot building accommodates a staff that has quadrupled in size in the last few years, as the average daily shipments has jumped from a handful to 100. "We had to stop hiring people because there was not enough space to put more desks," says Paul.
With the holidays just around the corner, Fox Creek is gearing up for a swell in online sales. Riders visiting the scenic New River, Grayson Highlands State Park or the Blue Ridge Mountain Music Center are invited to stop by Fox Creek's headquarters, which is right in the middle of it all.
###