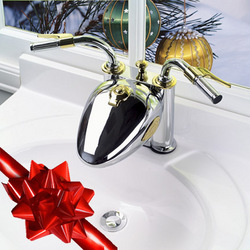 It has a beautiful finish, and has the look and feel of being well-constructed. It has terrific presence.
Wilton, Conn. (PRWEB) November 14, 2007
Motorcycle enthusiasts can "Bring Their Ride Inside" this holiday season and year-round with the motorcycle-inspired faucet -- the MFX Classic. This one-of-a-kind designer faucet features clutch and brake handlebars that turn to control the flow of hot and cold water. The MFX Classic, from MFX Inc. (http://www.cyclefaucets.com), blends the finest in designer faucet technology with a motorcycle theme and is a bold addition to any bathroom, workshop, or wet bar. This impressive, quality product has become a great customer conversation piece when installed in motorcycle dealership bathrooms. To help bikers transform their sink from boring to bold, MFX Inc. is now offering these designer faucets at a 50 percent sale, just in time for holiday gift giving.
Precision engineered by one of the world's leading faucet manufacturers, the MFX Classic features a chrome and brass surface, ceramic valves and state-of-the-art protective finishes for effortless maintenance and maximum durability. Customers can easily install the faucet as a drop-in replacement for any four-inch on-center sink and comes with a ten-year warranty on parts. The MFX Classic has motored its way through appearances at several biker shows nationwide, and as a featured product on HGTV and American Thunder. These appearances have revved up rave reviews with comments like "best in the show," "so cool and awesome," and "got to have one."
Michael Terry, a 44-year-old skilled tradesman, e-tailer and biker from Michigan, first caught a glimpse of MFX, Inc.'s patented faucet online. He has installed two MFX Classics in his home and said he could not be happier.
"I think it is a terrific faucet," he remarked. "It has a beautiful finish, and has the look and feel of being well-constructed. It has terrific presence."
MFX Inc. has motivated motorcycle enthusiasts this holiday season by reducing the price of this high-end designer faucet from the retail price of $799.00 to $375.00 including free shipping.
"The MFX Classic really ratchets up the 'Wow!' factor for our customers - whether they are homeowners or dealerships installing it in their business bathrooms," says Director of Operations, Debra Ward last week. "We have heard responses ranging from 'My husband would love this' to 'Whoa - that is what I need!' The enthusiasm expressed for this product has been fantastic."
About MFX Inc. (http://www.cyclefaucets.com)
Headquartered in Wilton, CT, MFX, Inc. seeks to offer its customers - biker and non-biker alike - the ability to own a unique quality product that brings a taste of the open road right in their own home, business, or RV in a bold, stunning, in an unexpected way.
For additional company information or to schedule an interview, please visit the company's website at http://www.cyclefaucets.com or call (800) 571-9085.
Contact:
Debra Ward
Phone:
860-444-1568 Direct
800-571-9085, x202 Toll Free
Email:
debra @ mfx-inc.com
###