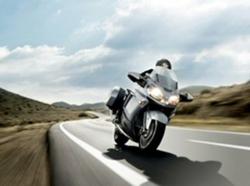 (PRWEB UK) 17 April 2012
Right now, thousands of cars become gridlocked on the country's most congested routes, with drivers' blood pressure rising as they sit, frustrated, in traffic queues. Plenty of time, of course, to ponder how much longer it may be before money is found to invest in the infrastructure and effect much-needed improvements.
But what will the future look like if key routes are privatised in order to relieve congestion and ensure regular maintenance? Many drivers and motoring organisations, including the AA, fear that any improvements are likely to be part funded by road tolling, leading to sharp rises in motoring costs.
In either scenario, people who decide to ride motorcycles rather than drive cars are likely to be better off. In the first instance, bikes find it easier to move through traffic and therefore make faster progress when roads are congested. In fact, in some areas, motorcyclists are allowed to use bus lanes which can speed up the time it takes to get from A to B considerably. Bus lanes on the majority of London's red routes have been opened up to motorbikes since January 2012 to help ease congestion and reduce carbon dioxide emissions. But bikers beware. This is not the case across the whole capital or in all towns and cities across the country so it pays to check traffic signs carefully before entering to avoid a hefty fine.
If Messrs Cameron and Osborne should press ahead with selling off major roads and tolls are introduced, bikers are still on a winning streak when it comes to overall motoring costs.
Motorcyclists pay considerably less road tax, get more miles to the gallon (unless it's a gas guzzling model) and have fewer problems finding on-street parking so can avoid huge car parking charges.
Based on current practice, motorcyclists are also likely to pay much less in toll charges – if any at all. For example, bikes can use toll-charging routes such as the Severn Crossing, Dartford Crossing and Tamar Bridge for free. Even driving the length of the M6 toll road on a motorcycle will cost almost 50% less than car drivers would pay.
Motorcycle Direct won't be taking bets on the likelihood of the government's road plans going ahead, especially given the negative outcry about the scheme. But in the famous words of one Conservative minister it might be better to 'get on your bike' either way.