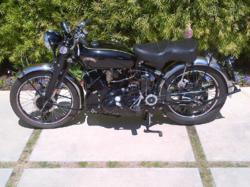 Having established ourselves as a resource for connoisseurs of cool and unique automobiles, we now intend to do so among motorcycle aficionados
Santa Cruz, CA (PRWEB) April 17, 2013
Vintage and exotic car sales website LegendaryFinds.com has begun listing collectible motorcycles along with its cars. Long popular with car buffs, the online resource scours the daily Internet listings for top deals offered privately and by dealers.
"Having established ourselves as a resource for connoisseurs of cool and unique automobiles, we now intend to do so among motorcycle aficionados," says website owner Lars Mapstead.
A collector himself, Mapstead noticed that motorcycle fans lacked a comprehensive reference site for what's available regionally and nationwide. But his automotive website provided a state-of-the-art solution to also listing vintage motorcycle for sale, he says.
"Along with an all-in-one locator for classic motorcycles we provide links to each ad's origin," notes Mapstead. "That enables users looking for great buys to pass finds on to fellow motorcycle buffs, using Facebook and other social media."
The team at LegendaryFinds.com own and drive every style of car and motorcycle featured on the website. Having driven and owned many different types they know what it takes to create a great cycling experience, as well as a good investment, says Mapstead.
"Personal ownership and road experience helps immensely, especially in our selection of top daily featured motorcycles," he notes. "Motorcycles occupy a special niche in American pop culture—one that echoes worldwide due to iconic motorcycle producers such as Harley-Davidson, as well as Hollywood's elevation of them into symbols of the spirit of a nation."
"We're proud to roll out a new website feature that makes vintage wares of motorcycle producers available to all who recognize outstanding quality."
Entrepreneur and Silicon Valley venture capitalist, Mapstead is also the guiding hand behind several prominent social networking and gaming sites.