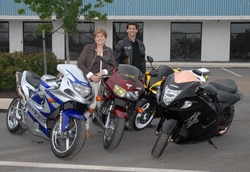 Having worked with Dave over the past several years in other motorcycle events, I can personally say that he has the drive and motivation to put together what I believe will be one of the biggest and best bike shows we've seen in the Tri-State area
Philadelphia (PRWEB) October 28, 2008
The 1st Annual Philadelphia Motorcycle Show will bring together the largest collection of motorcycles, ATVs and powersport vehicles the Philadelphia area has seen in years. Rumbling into the Greater Philadelphia Expo Center at Oaks October 9, 10 & 11, 2009, the Philadelphia Motorcycle Show will showcase the hottest rides from leading manufacturers in the powersports industry immediately following the U.S. debut of their newest machines. Part of the 200,000 sq. ft. show will be dedicated to a variety of vendors of moto-inspired aftermarket gear and accessories. It's a motorcycle enthusiasts dream--the latest and greatest under one roof -- and back in Philadelphia!
"Pennsylvania consistently ranks 4th in the nation for new motorcycles sold with only California, Florida and Texas selling more," according to David Mockus, Show Manager for event producer D&D Expositions. "Even in this unstable economic environment, motorcycle sales in Pennsylvania are expected to increase more than 7% this year and with over 800,000 registered riders in Pennsylvania we thought it was time to bring a consumer show of this caliber back to Philly." Adds Mockus "We are rolling and ready for action!"
D & D Expositions is thrilled to bring the Motorcycle Show to Philadelphia in a venue ripe for success. The Greater Philadelphia Expo Center at Oaks is located just off Route 422, just 20 minutes from Philadelphia, PA and accessible from all major Mid-Atlantic highways. Privately owned and with tons of free parking, the location offers all amenities suited for this inaugural event. According to the PA Department of Motor Vehicles, there are more than 150,000 licensed motorcyclists within a 25 mile radius of the Expo Center. "Having worked with Dave over the past several years in other motorcycle events, I can personally say that he has the drive and motivation to put together what I believe will be one of the biggest and best bike shows we've seen in the Tri-State area," says Mike Foreman of Sport Cycle & Salvage, Prospect Park, Pennsylvania.
For more information about the Philadelphia Motorcycle Show please visit MotorcycleShow. For exhibition and sponsorship opportunities contact David Mockus at david @ phillyexpos.com or 856-626-3226.
###