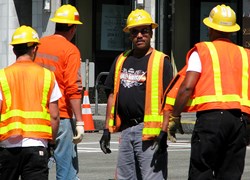 drivers who are least likely to make a claim on their car insurance policies include those in many manual labour and more artisanal occupations
(PRWEB UK) 24 September 2012
Tiger.co.uk, one of the UK's leading independent car insurance comparison websites, has published the results of its study of the relationship between driver occupation and car insurance claims. The analysis has been made using data collected from almost 280,000 drivers who used Tiger.co.uk to get car insurance quotes and analyses over 300 different occupation groups.
The study also used annual driving mileage data in order to negate the likelihood that drivers in certain occupations may be more likely to drive than others and so naturally may have a greater propensity to make a claim. Hence the ranking of results has been based on the average number of miles driven by motorists from within each occupation group per claim made. Occupations with less than fifty drivers were excluded from the analysis so as not to artificially bias results.
The study reveals that the drivers who are least likely to make a claim on their car insurance policies include those in many manual labour and more artisanal occupations such as fencers, stonemasons, blacksmiths, concrete workers, dock workers and steel erectors. Each of these featured in the 10 occupations that are least likely to make a claim.
At the other end of the spectrum the study found that counsellors, local government legislators and barristers and solicitors joined many healthcare professionals including midwives, GPs and dentists as those most likely to have made a claim on their policies in the last five years. Perhaps surprisingly, teachers, police officers, ministers of religion, librarians and civil servants all rank highly in the list of those policy holders with the greatest propensity to make a claim.
How Does Your Occupation Rank?
Tiger.co.uk has created a quick reference tool in order for drivers to check out how their own occupation group fared in the study. And this can be accessed using the Tiger.co.uk site.
A full list of all 314 analysed occupations is also available, ranked from the most likely to the least likely to be making a claim.
Commenting on the results of the study Andrew Goulborn, Tiger.co.uk's Commercial Director, said:
"We looked at about 280,000 car insurance quotes in order to undertake this analysis and the results contain some surprises. We looked at the occupations of these drivers and then at the number of these drivers who told us that they'd made at least one claim on their car insurance policy in the last five years. We excluded any occupations that had less than 50 drivers recorded in them so as to ensure that the study was statistically robust.
"At the 'low claims' end of the spectrum it's interesting to see so many manual labour and artisanal occupations such as fencers, stonemasons, blacksmiths and dock workers. They appear to make up to five times fewer claims than those at the other end of the scale.
"The 'high claims' group includes law makers and many of the UK's healthcare professionals. Also worthy of note at the 'wrong' end of this table are police officers, teachers and civil servants! However this doesn't mean that these groups are more likely to have accidents or mishaps or are bad drivers. Just that they seem to have a greater likelihood of actually going through the claims process."
ABOUT TIGER.CO.UK
Tiger.co.uk is a trading name of Call Connection Ltd. Tiger.co.uk is a UK based, independent motor insurance comparison site, offering insurance quotes from over 150 insurance brands. Call Connection Ltd is authorised and regulated by the Financial Services Authority (number 308374).