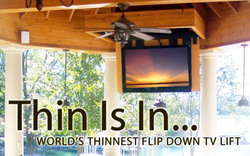 We've completely repackaged our TV mounts. It's a big deal: Professional, retail quality boxes that can be shipped UPS, no problem. They're real attention-grabbers.
Port Orchard, WA (PRWEB) April 16, 2010
Lift It, Inc. announces DealerLink™, designed to put Lift It™ products directly in the hands of the consumer looking for motorized TV lifts in their area. Lift It, Inc. continues to sign up more dealers, expanding the network to make their hidden, moving TV lifts available to as many people as possible. Packaging has also been redesigned to support dealerships.
"DealerLink™ is a great selling tool for us and for our dealers. It allows our customers to support businesses on a local level while giving all our dealers out there a nationwide audience. And for us, it means we've got a local outlet where the customer actually is. That's a great thing, not only because it puts our motorized TV lifts in a shopper's hands, but because there'll be a person there to demonstrate and explain all the outstanding features our products have now," says Darryl Henson, National Sales Director.
The Lift It website showcases low profile TV mounts for RVs, yachts, commercial buildings, or homes.
Three flip-down ceiling TV power lift models save space, needing a maximum of 6" of space in ceiling, and are compatible with LCD and plasma TVs 15" to 55". The pop-up style lifts, LFT-100 and LFT-200, fit LCD and plasma TVs between 15" and 55", and are now packaged as a retail-quality boxed product with secure recyclable foam packing.
Henson explains, "We've completely repackaged our TV mounts. It's a big deal: Professional, retail quality boxes that can be shipped UPS, no problem. They're real attention-grabbers. And the key thing about the box is that they do a good portion of the job of selling for you. A customer sees that box, and they get an idea – 'Hey, that's something I might want to buy!' Everybody who's bought one so far seems to be 100% happy with every step of the purchase, starting with the box."
Lift It markets to consumers through their website and by partnering with local dealers, including general retail outlets, furniture and cabinet builders, A/V professionals, RV dealers/manufacturers, boat and yacht dealers/manufacturers, and architects. Homeowners can use DealerLink™ to find authorized dealers to contact if there is a store in their area, or they can order directly from liftmytv.com. Just a few clicks and anyone can buy direct and have a TV mount shipped to their door.
These mounts have programmable travel limits, include both wireless and wired remotes, and require relatively low installation times. Other features include:

3-day shipping
5-year product warranty
Simple 30-day, no-hassle guarantee (customers can try the lift for 30 days; if they don't like it they can return it within that time for a refund)
24-hour customer service by phone, toll free, at 877-543-8698
About Lift It, Inc.:
The first standardized manufacturer of television and monitor lifts, Lift It, Inc. is based in Seattle, Washington. Now that flat screen LCD and plasma televisions are accessible to the average consumer, Lift It is providing a homeowner-friendly means of concealing them in a room. Widely compatible, precision-made, cost-effective, quiet, compact, and reliable, these lifts are made to appeal to both dealers and do-it-yourselfers. And it's easy to find the right lift for almost any TV, with just two models of pop-up/ascending lifts and three models for flip-down/ceiling mounted lifts. Liftmytv.com features a password-protected zone for dealers and distributors and a Lift It blog updated regularly with installation ideas and guides, trade show appearances, and company and industry related news items.
###