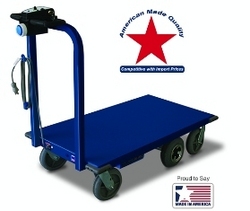 Elk River, Minnesota (PRWEB) November 26, 2010
AmericartUSA™, an innovative, USA based company that provides ergonomic solutions for transporting materials in a variety of industries, announces a new line of low cost motorized platform carts specifically created to compete with similar import products, and they are built in the USA. AmericartUSA™ has over 15 years experience in the motorized cart industry.
The platform cart comes in a variety of standard sizes or can be customized to meet your specifications. The carts are also available with a wide variety of accessories and configurations. These products are battery powered and are ideal for wide range of uses in areas including hospitality, commercial and light industry. AmericartUSA™ battery powered carts will help reduce employee injuries from strain and fatigue while increasing productivity. Materials can be safely transported across various surfaces and inclines.
The cart is priced to compete head-on with similar import models, but it is built to the high standards that meet the American consumer laws. US manufacturing has strong regulatory standards regarding the environment and when you purchase AmericartUSA™ motorized carts you are assured that you're helping to keep the environment cleaner.
Buying products manufactured in the United States helps keep jobs at home and improves the US trade imbalance. There is no more critical time than now for Americans to buy USA manufactured products and invest in the future of this great country.
AmericartUSA™, LLC is a privately owned company based in Elk River Minnesota; it designs and builds material handling carts for uses in the hotel, casino, manufacturing, or commercial industry. For more information, go to http://www.motorized-cart.com or call 877.498.0076.
###