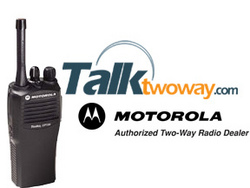 Charlotte, NC (PRWEB) February 28, 2009
Talktwoway.com.com the online resource for Motorola two way radios is extending the Buy 6 Get 1 Free promotion on the Radius CP200.
Motorola has extended this popular promotion until May 31, 2009. When you buy 6 of the Radius CP200 model radios, you will get 1 of the same model free.
Motorola's Radius CP200 two-way radio is one of the most durable, rugged, price competitive two way radios in its class. The Radius CP200 portable two-way radios deliver the quality features you want at a very competitive price. To provide what's best for your business, the CP200 radio is available in both 4W UHF and 5W VHF models. Powerful audio output penetrates noisy environments, providing the clear, crisp audio at any volume. A lightweight, ergonomic design makes these radios comfortable to carry and operate, even while wearing gloves. A range of battery choices along with rapid recharging capabilities help ensure your radio is ready when you are. Programmable option buttons make it easy to customize your radio with your choice of features.
The Radius CP200 two-way radio is perfect for:
Education, Retail, Hospitality, and Security with features such as priority scan, rapid charger, internal VOX, adjustable power levels, Motorola's MDC1200 signaling, Quick Call II (Decode).
About TalkTwoWay
TalkTwoWay.com is based out of Charlotte North Carolina and offers Original Motorola two-way radio products and accessories. Talk Two-Way is dedicated to providing a broad range of two-way radio products for customers to choose from, in addition to an abundance of information about each Motorola product and accessory. Talk Two-Way guarantees that the products sold on this website are Genuine Motorola Original Parts and Accessories and are not duplicates, knock-offs, or otherwise re-manufactured imitations. Two-way radios offer numerous benefits for outdoor enthusiasts, making them a better choice than cell phones and other types of wireless communication devices in many situations.
The Talk Two-Way database allows visitors quick access thousands of Motorola products and accessories, as well as, information on two-way radio products and accessories. The website allows users to easily walk through the frequency setup process and integrates specific organizational data. With this function, Talk Two-Way can quickly process and deliver quality Motorola two-way radios, accessories and other parts to customers.
Motorola and the Stylized M Logo are registered in the
US Patent & Trademark Office. All other product or service
names are the property of their respective owners.
© Motorola, Inc. 2008.
# # #