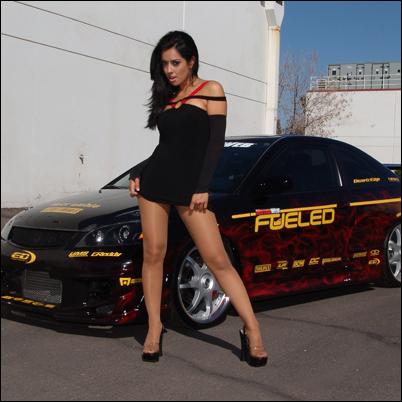 Phoenix, AZ (PRWEB) March 20, 2007
MotorWeb, Inc., a leader in online aftermarket performance auto parts and accessories, announces the unveiling of its 2007 show car that will support its recently launched online community, MotorWeb Fueled. Video of the unveiling event will be available for viewing today as a featured video on http://www.motorwebfueled.com.
Lonnie Boutte' VP of Marketing for MotorWeb states, "In 2006, we built the Ultimate Drift Machine as our show car to promote MotorWeb, unveiled it at the SEMA (Specialty Equipment Market Association) show in Las Vegas and loaded the video on the web to the delight of thousands of sport compact enthusiasts. The success of the 2006 show car prompted us to do another car for 2007. This year, however, we started early so that the car could visit as many shows throughout the year as possible, and be available to expose the launch of the MotorWeb Fueled community. The car also vividly displays decals of all the sponsors who provided services, parts and accessories for the build."
The MotorWeb Fueled show car boasts an added bit of 60's nostalgia and charm, when people often named their cars. The name given to the MotorWeb Fueled show car is 'SMOKE,' and this name will be used in the numerous print and digital media campaigns where the car will be featured. The name 'SMOKE' was conceived to incorporate the high octane feel of MotorWeb Fueled and will include the tag line, 'Where there's FUEL, there's fire; where there's fire, there's 'SMOKE'.
'SMOKE' will be part of the MotorWeb Fueled community and will have its own website at http://www.motorweb.com/smoke (coming soon!), where visitors will see videos and photos of SMOKE on tour at many events. The site will also feature Sahar, who was recently announced as the MotorWeb Fueled model for 2007, prize giveaways, free personalization accessories such as screensavers and ring tones, and more. In its first-ever public appearance at NOPI Phoenix, 'SMOKE', a 2005 Honda Civic pulled down 2nd place in the late model custom Honda category.
About MotorWeb
MotorWeb, Inc. is located at 4828 S. 40th Street, Phoenix, AZ 85040 and is a leading online one-stop source for aftermarket performance parts and accessories. The company is a reseller and wholesale distributor of auto parts and accessories for more than 300,000 parts from more than 150 of the largest automotive parts manufacturers in the world. It owns and operates MotorWeb Fueled, the recently launched social community for automotive enthusiasts. Enthusiasts can purchase parts by visiting MotorWeb.com, SportCompactOnly.com or by calling 888-766-0022 for live help.
###