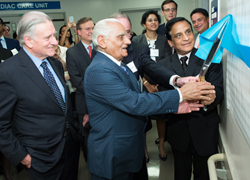 New York, NY (PRWEB) September 29, 2014
Mount Sinai Heart has named its Cardiac Catheterization Laboratory the "Dr. Samin K. Sharma Family Foundation Cardiac Catheterization Laboratory," in honor of Samin Sharma, MD, who serves as its Director of Clinical and Interventional Cardiology at The Mount Sinai Hospital.
On September 18, Mount Sinai held a ribbon-cutting ceremony for the Catheterization Laboratory; leadership unveiled a wall plaque honoring Dr. Sharma, the Sharma Family, and the many donors who helped the Catheterization Laboratory reach its $5 million endowment goal. The endowment will support the Catheterization Laboratory's future clinical, research, and educational projects.
"With hard work and dedication, we created the number-one Catheterization Laboratory in the United States with the highest volume and lowest complication rates," said Dr. Sharma, while speaking at the Catheterization Laboratory's special ribbon-cutting ceremony. "From the bottom of my heart I thank all of you. Also, I thank my team of the Catheterization Laboratory, and I thank my mentor and guider, the one reason I am here at Mount Sinai -- Dr. Valentin Fuster."
"We have a miracle and it's Dr. Samin Sharma, an individual who is unique," said Dr. Fuster, Director of Mount Sinai Heart and Physician-in-Chief of The Mount Sinai Hospital. "Having our Catheterization Laboratory named after Dr. Sharma is such a tribute to him, his father, and for everything Dr. Sharma has done for us at Mount Sinai."
"My son had a dream: If you do hard work, you will fulfill your dreams," said Anandi Lal Sharma, the 84-year-old father of Dr. Sharma who traveled from India to join the celebration. "He dreamed, and I thank you very much."
Dr. Sharma is world-renowned for his clinical excellence, innovative research, and high patient safety record for the treatment of heart attacks, blockages, and valvular disease. Dr. Sharma came to America from India in 1983, joining The Mount Sinai Hospital in 1990 from Elmhurst Hospital first as a cardiology fellow, and later became Director of its Catheterization Laboratory in 1996. Under his strong leadership, Mount Sinai's Catheterization Laboratory has for 16 consecutive years received the highest "two-star" safety rating from the New York State Department of Health for safety rates significantly exceeding the statewide average.
About the Mount Sinai Health System
The Mount Sinai Health System is an integrated health system committed to providing distinguished care, conducting transformative research, and advancing biomedical education. Structured around seven member hospital campuses and a single medical school, the Health System has an extensive ambulatory network and a range of inpatient and outpatient services—from community‐based facilities to tertiary and quaternary care.
The System includes approximately 6,600 primary and specialty care physicians, 12‐minority‐owned free‐standing ambulatory surgery centers, over 45 ambulatory practices throughout the five boroughs of New York City, Westchester, and Long Island, as well as 31 affiliated community health centers. Physicians are affiliated with the Icahn School of Medicine at Mount Sinai, which is ranked among the top 20 medical schools both in National Institutes of Health funding and by U.S. News & World Report.
For more information, visit http://www.mountsinai.org or find Mount Sinai on Facebook, Twitter and YouTube.