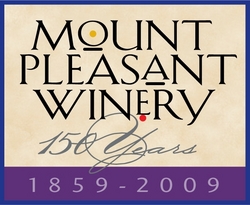 Believe it or not, this one goes very well with cranberries.
(Vocus) October 29, 2009
Choosing the perfect wine to pair with a Thanksgiving dish or the perfect bottle to bring a hostess can be an overwhelming prospect. Mount Pleasant Winery offers some wine suggestions that will bring out all the delicate flavors of any traditional Thanksgiving dinner.
To set the mood, Chuck Dressel, president of Mount Pleasant Winery, recommends starting the holiday evening with Champagne and appetizers. Sparkling wine is a great aperitif to sip while waiting for the turkey to cook.
"Our Brut Imperial is a crisp, dry sparkler and an excellent choice for any wine lover," Dressel says. "For those looking for something sweeter, ours Ten Bucks is a very popular creamy, carbonated white wine."
For those looking for the ideal white wine for their Thanksgiving table, a Riesling will carry a glass from appetizers through dessert. Mount Pleasant's Rhineland is a wonderful choice that boasts aromas of apples and pears and flavors of tree fruits and melon. The refreshing Rhineland will bring a subtle sweetness to any Thanksgiving dish. Chardonnays also lend themselves well to supporting the diverse food flavors and styles that are the hallmark of a Thanksgiving feast. Mount Pleasant's Chardonnay is a dry, buttery wine that is fermented exclusively in French oak barrels. This wine will sing with any creamed dishes.
Red wine lovers will enjoy fruity, medium-bodied wines with their Thanksgiving meal, such as a Cabernet Sauvignon. Mount Pleasant's Cabernet exhibits earth, cedar and dried cherry aromas that lead to a finish offering soft tannins and moderate acidity.
"Our Highland, a medium-bodied red with black cherry, molasses and plum aromas, is a fabulous choice if you prefer a sweeter wine," Dressel says. "Believe it or not, this one goes very well with cranberries."
For dessert, a Tawny Port is ideal, offering the sweetness and the viscosity to support the rich flavors and robust spice of pumpkin pie. Mount Pleasant's award-winning Tawny Port includes aromas and flavors of caramel, nuts and butterscotch.
"Any quality wine will complement a great dish, so do not over think it," Dressel says. "Ultimately, it is important to drink what you like, but do not be afraid to try something new."
Mount Pleasant Winery, founded in 1859, is located a short distance from St. Louis in Augusta, Missouri, the first government-appointed wine-growing district in the United States. The winery grows 12 grape varieties on 85 acres and its original limestone cellars are still used to age estate-bottled wines and international award-winning Augusta Ports. Visitors enjoy tasting wine in the spacious 4,000 square-foot tasting room and sipping wine on the terrace with spectacular views of the Missouri River Valley. There is entertainment year round with cellar tours, wine classes, winemaker dinners, holiday-themed events and more. Call for information on tours and events. Open daily from 11 a.m. to 5:00 p.m. with extended hours, spring through fall. Mount Pleasant Winery, the pioneer in sustainable viticulture for the Missouri wine industry, celebrates its 150th anniversary in 2009.
MEDIA CONTACT
Leigh Albright
Lents & Associates
314.968.3060
###