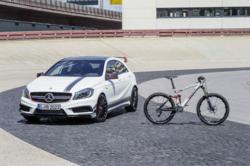 introducing the all new R.X45 AMG
Stevenage, London, UK (PRWEB UK) 14 June 2013
Thanks to the recent pairing up of AMG and premiere mountain bike manufacturer ROTWILD, consumers can now enjoy riding on two wheels as well as four -- and without giving up on the superior performance to which they've become accustomed.
The thinking behind the recent collaboration between Mercedes-Benz AMG and ROTWILD is as follows: luxury drivers are expressing concern about maintaining healthy lifestyles and doing their part for Mother Nature, but are not willing to give up on the comfort, convenience and sheer cool factor offered by any Mercedes A45 AMG for sale. Leaders at Mercedes-Benz correctly assumed that such AMG enthusiasts would quickly latch on to the idea of an athletic bike designed to carry all the advantages of the four wheel version of the vehicle, but without the need for fuel.
The result? The much-acclaimed R.X45 AMG All Mountain Bike.
The R.X45 AMG All Mountain Bike is available for use in a wide array of settings, from street racing to the rougher terrain of mountain bike trails. Despite the built-in all terrain nature of the bike, it maintains its credentials as a top of the line racing bike, perfect for those requiring versatility for planned touring events. The elite racing quality is of the R.X45 is made possible by a light, yet sturdy frame infused with carbon fiber for extra oomph. Critics applaud the bike's ability to withstand the harshest of weather conditions, a necessity in any bicycle serving hardcore cyclists.
The joining of AMG and ROTWILD to create a superior racing bike is nothing short of genius. Stripped down to their most basic elements, the two manufacturers share an innovative streak that allows them to come up with today's most impressive two and four wheel vehicles. Surely the R.X45 AMG All Mountain Bike is only the first in what will hopefully be a long line of ROTWILD bikes carrying the exclusive Mercedes AMG name.
END
Author: David Newman from Mercedes-Benz Hertfordshire
About Mercedes-Benz Hertfordshire - L & L Automotive
L&L Automotive is the driving force behind a dynamic retail network aimed at enhancing sales and after sales services for the region's existing and prospective Mercedes-Benz, AMG and smart customers.
Encompassing retail outlets in Bishop's Stortford, Hertford and Stevenage, the group is operated by L&L Automotive – a company boasting a lengthy and successful history.
L&L's Mercedes-Benz businesses moved into Hertfordshire in July 2002, when it was selected as one of Daimler UK's key business partners in establishing a revitalised national retail structure.
L&L Automotive. is a company registered in England and Wales with company number 4415393
VAT No. 794 6047 92
Mercedes-Benz of Stevenage : 01438 737800
Mercedes-Benz of Bishops Stortford : 01279 719333
Mercedes-Benz of Hertford : 01992 514444