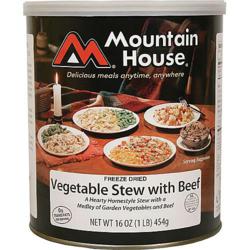 Fulton, NY (PRWEB) July 02, 2013
CampingSurvival.com has announced that Mountain House, maker of high quality MRE for camping and disaster preparedness, has just announced lower pricing on their products, including all Mountain House #10 cans and Mountain House pouches and long term buckets.
"Last month, Mountain House gave us permission to run a really good sale, including 25% off their #10 cans of food," said Tom Sciacca, President of CampingSurvival.com. "Now, they've lowered their pricing structure, which means that our sale price to customers is even more incredible.
"Now that we're getting into the height of camping season, this is the perfect time to have plenty of MRE on hand," said Sciacca. "It saves a lot of space to be able to stow a few MRE pounces in your backpack, and it permits you to stop in the middle of a hike and have a good meal, instead of waiting till your hike is over to eat something satisfying. I like to have more than just trail mix on a backcountry hiking trip!"
In addition to lower overall pricing for Mountain House MRE, CampingSurvival.com is having a sale from July 1 until July 7, 2013 with additional savings:
– 25% off the new lower pricing all #10 cans of Mountain House food, including items such as breakfast skillet, chicken teriyaki, pasta primavera, lasagna and more than two dozen other choices.
– 15% off the new lower pricing on all Mountain House pouches and long term buckets, including beef stew, Mexican chicken & rice, sweet & sour pork, chicken ala king and even desserts.
(Visit campingsurvival.com/mountain-house.html for more details.)
"The Mountain House flavors are excellent," Sciacca said. "A thousand times better than those old military C-rations from years ago, and they're even better than the MRE we used to have in the Marine Corps back in the 90's."
Sciacca also notes having enough MRE in your backpack will allow hikers safety margin if they get lost and an afternoon hike turns into an overnight stay.
"There are too many instances of hikers getting lost in our national parks every year," he said. "If you have friends, family members and neighbors who are planning a wilderness camping trip, help them understand the importance of being prepared. One preparedness measure is to have enough food to take care of yourself in any circumstance."
Sciacca, a former Marine and veteran of the Gulf War, founded CampingSurvival.com in 2002, and soon earned a reputation as an online authority on camping, wilderness survival and urban survival gear. CampingSurvival.com's loyal following of customers has made it a popular site for information on disaster preparedness.