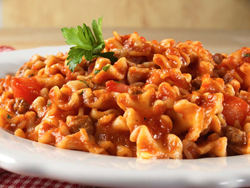 Mountain House's Taste Guarantee is based on real-world testing, not extrapolating numbers found in an ideal laboratory environment.
Albany, Ore (PRWEB) June 22, 2015
Mountain House, widely regarded as the gold-standard brand of emergency survival and camping food, has announced they are guaranteeing the taste of food they sell in pouches for a 12+ years and 25+ years in cans. This guarantee clarifies and distinguishes the quality claims of Mountain House from its competitors and stands in stark contrast to vague assertions of shelf life "up-to" a period of time, coupled with the very low standard of "will sustain life."
"The claims of 'up to' and 'will sustain life' don't give consumers confidence that their investment will perform as expected," says Jim Merryman, president of Mountain House's parent company OFD Foods, Inc. "We want consumers to be confident that our food will taste as good at the end of our Taste Guarantee as the day it was made, and that it will be there to feed and comfort them in their times of need."
Merryman goes on to say that Mountain House food will still be tasty and nutritious for years, even decades, beyond the Taste Guarantee if stored properly.
According to Drew Huebsch, Research and Development manager at OFD Foods, Mountain House's Taste Guarantee is based on real-world testing, not extrapolating numbers found in an ideal laboratory environment. "We regularly test Mountain House products stored in real world conditions against our new production," he says, "and update our shelf life and Taste Guarantee accordingly."
Norm Jager, Research Advisor at OFD Foods adds, "Temperatures were regularly as high as 80 degrees and occasionally exceeded 100 degrees during summer months. While Mountain House recommends storing its food below 75 degrees, it is reassuring for consumers to know that their Mountain House meals will be delicious, even given a wide range of storage conditions. It's an investment that will hold its value for decades to come."
For more information about our Taste Guarantee, please visit: bit.ly/MHTasteGuarantee
About Mountain House
Based in Albany, Ore., Mountain House has been the first choice of backpackers, hikers, campers and emergency preparation & survival experts for nearly 50 years. Why? Great taste, ease of use and reliability, no matter how extreme the environment. As a result, Mountain House commands more than 70 percent of the outdoor freeze dried meal market according to the Outdoor Industry Association. Their line of meals in pouches have a Taste Guarantee of 12+ years. Foods in their #10 cans have a Taste Guarantee of 25+ years. This is the longest proven shelf life and 'Taste Guarantee' in the industry. For more information and a complete list of products, visit http://www.mountainhouse.com.