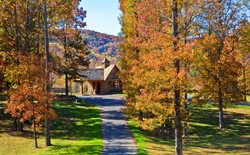 There are certainly developments offering incredible views up here, but never has it all come together like this
Ellijay, GA (PRWEB) December 19, 2008
Building on its legacy of successful mountain property developments, A.S. Dover Communities is poised to redefine North Georgia living with two distinctive communities in the heart of the Blue Ridge Mountains: Falling Waters and Tranquility at Carters Lake.
Located just minutes from historic downtown Ellijay, Ga., A.S. Dover's Falling Waters is a prime example of the new breed of mountain community. The development not only embraces the area's natural beauty, but also brings a level of sophisticated planned amenities -- from sweeping organic gardens and culinary kitchens to holistic spa treatments and a full program of active outdoor pursuits -- amenities that, until now, were unheard of in the area.
"There is something truly magical happening here in North Georgia ... something that we believe discerning mountain homebuyers will fully embrace," explained Joe Hensley, vice president at A.S. Dover Communities. "About 10 years ago, word of the region's appeal began to surface nationally, and small numbers of early adopters from all over the country began to consider the area. Right now, North Georgia is not known as a destination area. But, if you were to pick up this same land and drop it in an established area like Cashiers or Highlands, it would be triple the price."
"There are certainly developments offering incredible views up here, but never has it all come together like this," noted Peter Knutzen, Vice President of Real Estate & Marketing for A.S. Dover Communities. "I think this will be a true turning point in redefining North Georgia as an accessible, amenity-rich destination. Where else in the North Georgia mountains can you experience an incredible day on the river, enjoy fine dining and then drift off during a warm stone massage?"
Here, just a short drive from the hustle of urban Atlanta, nature takes center stage at Falling Waters, serving as a backdrop for a distinctive mountain community featuring world-class amenities. And it is all situated on 1,923 heavily wooded acres with an abundance of long-range mountain views and the therapeutic sound of rushing water echoing throughout the property.
Best of all, Falling Waters is accessible. "The days of enjoying a vacation home three times a year are gone," said Knutzen. "Today's discerning mountain home buyers are looking for high use of their investment."
At just 90 miles from Buckhead and downtown Atlanta, Falling Waters is within the "magic window" of accessibility. It is also an easy day's drive from Naples, Sarasota and Tampa. "At one time, second home owners from the southwest coast of Florida simply didn't have any other options -- they had to keep on driving to Western North Carolina to find the right combination of natural beauty and word-class amenities," noted Knutzen.
To fully experience what life will be like at Falling Waters, A.S. Dover Communities is offering a personalized Property Preview, including an overnight stay at the on-site bed & breakfast - Falling Waters Mountain Lodge. For more information or to schedule a visit, please call 1.888.515.1610 or visit: http://www.fallingwatersclub.com
Over at nearby Carters Lake, there's something of a construction boom going on as property owners begin building their dream homes at Tranquility at Carters Lake®, A.S. Dover's premier lake-access community.
Indeed, A.S. Dover Communities strives to provide each property owner with measurable value in a setting of both adventure and relaxation and Tranquility at Carters Lake® is no exception. The community offers incredible access to a U.S. Army Corps of Engineers lake that tops 400 feet at its deepest point and is contained by the largest earthen dam east of the Mississippi. The lake is surrounded by a 5,000-acre nature preserve and has a full-service marina, seven boat ramps, seven recreation parks and four campgrounds. Most important, the lake water level is not drawn down each winter, as are many other power-generating lakes in North Georgia, allowing the water level to stay relatively constant year-round.
For more information on Tranquility at Carters Lake® or to schedule a visit, please call 1.888-515-1610 or visit http://www.tranquilityatcarterslake.com You may also call to arrange a private tour of the community and the five model homes.
About A.S. Dover:
A.S. Dover Companies is a family of interrelated companies devoted to the construction, development and marketing of high-quality real estate in the Blue Ridge Mountains of North Georgia. The Company's Corporate, Construction Services, Real Estate and Marketing offices are all located in Ellijay, Ga. A.S. Dover Communities strives to provide each and every property owner with measurable value in a setting of both adventure and relaxation. The company's four communities -- Tranquility at Carters Lake®, Falling Waters, Ridgemont and East Ridge -- offer a range of architectural, price point and amenity choices, allowing buyers to make the choice that best fits their specific requirements.
Contact:
Peter N. Knutzen, Vice President Real Estate & Marketing
A.S. Dover Communities
24 South Main Street - Suite F
Ellijay, GA 30540
Office: 706.515.1600
Mobile: 404.277.4980
http://www.asdover.com
###