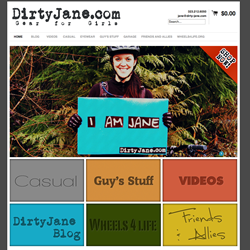 When a woman declares, 'I Am Jane", she is telling the world she is serious and passionate about her sport
Dallas, TX (PRWEB) May 18, 2013
Women's mountain biking gear authority, Dirty-Jane.com, is expanding its "I Am Jane" advertising campaign with help from Christopher Oliver's Dallas based advertising agency. The ad campaign features female mountain bikers identifying themselves as "Jane (a.k.a. Dirty Jane)" as a way of declaring their dedication to the sport.
"When a woman declares, 'I Am Jane,' she is telling the world she is serious and passionate about her sport. She is a dedicated mountain biker and is not afraid to get dirty on the trail. It is an empowering declaration and a statement of solidarity with other female mountain bikers. We are developing and deploying new media outlets to expand this message of empowerment for female athletes," says Christopher Oliver, strategist.
DirtyJane.com, owned and operated by people with a passion to ride, is a provider of "gear for girls" and a premier online retailer for women in action sports, carrying gear and apparel specifically designed for from more than twenty select brands including Leatt, Loeka, Magura, Marzocchi, O'Neal, Race Face, Five Ten, Azonic, Blur Optics, Jett MTB, Kali Protectives, Royal Racing, Spank Industries, Techlite, Twenty6 Products, UVEX and Urge Bike. Their mission is to provide more opportunities for women to participate in action sports. For more information about Dirty Jane visit their website at dirty-jane.com
The Christopher Oliver Agency is a Dallas based advertising agency that focuses on developing and implementing effective strategies for online marketers. For more information about the Christopher Oliver Agency visit their website at christopheroliver.com.