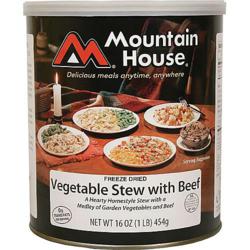 Even if you already keep supplies at home, Mountain House food makes a great gift to your loved ones who should be prepared too.
Fulton, NY (PRWEB) May 10, 2013
CampingSurvival.com has issued preparedness advisories in advance of the 2013 Hurricane Season, so that residents in areas that may be affected by hurricanes are properly prepared to provide for themselves and their families in the event of an emergency. To encourage emergency preparedness, CampingSurvival.com has begun an unprecedented 7-day sale on Mountain House emergency food supplies, with significant discounts on the high quality food items.
Pacific hurricane season begins May 15 and runs until June 1, although tropical cyclones can form at any time. Atlantic hurricane season begins June 1 and lasts until November 1. Weather Services International (WSI) issued their first forecast for the Atlantic hurricane season in April, forecasting sixteen named storms, nine hurricanes and five major hurricanes.
"Hurricane Sandy swept across the upper east coast, devastating areas people don't usually associate with hurricanes," said Tom Sciacca, President of CampingSurvival.com. "This year, we want more people to be prepared to help themselves, should weather related events such as tornados, hurricanes and severe storms strike their area.
To create more incentive for people to keep emergency food on hand, CampingSurvival.com is having a large sale on highly acclaimed Mountain House emergency food:

25% off all #10 cans of Mountain House food, including items such as breakfast skillet, pasta primavera, chicken teriyaki, lasagna and more than two dozen other choices.
15% off all Mountain House pouches and long term buckets, including beef stew, sweet & sour pork, Mexican chicken & rice, chicken ala king and much more.
Sciacca notes that sales on Mountain House emergency food is extremely rare and special permission must be granted by Mountain House management to offer these discounts. Because of this, the sale will run only from today until May 15, 2013.
"It's important for families to keep freeze-dried foods available in case of a civil emergency. Mountain House #10 cans have the longest shelf life available."
Sciacca added that it doesn't take a hurricane to cause widespread damage, power outages and leave people stranded.
"Many severe storms that don't reach hurricane strength and aren't even named can leave people stranded. If everyone made it a priority to keep emergency food supplies on hand, I believe we'd have fewer life threatening emergencies after storms."
"If you have friends, family members and neighbors who do not prepare well for natural disasters, do all you can to encourage them to get a go-bag and to stock up on MRE, a first aid kit and other urban survival supplies," Sciacca said. "Even if you already keep supplies at home, Mountain House food makes a great gift to your loved ones who should be prepared too."
Sciacca, a former Marine and veteran of the Gulf War, founded CampingSurvival.com in 2002, and soon earned a reputation as an online authority on camping, wilderness survival and urban survival gear. CampingSurvival.com's loyal following of customers has made it a popular site for information on disaster preparedness.