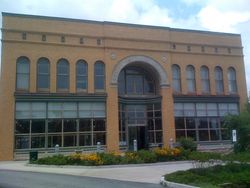 The way that a business needs to market these days is changing rapidly
Thomas, WV (Vocus) April 1, 2010
MountainMade represents rural West Virginia artists too busy creating one-of-a-kind pieces in mountainside workshops to market their wares. And now the organization is bringing the stories of those artists to life in vivid detail using online video and social media.
Every artist has been molded and formed creatively by their past and experiences, and that in turn leads to their respective specialty and artwork. MountainMade, like its artists, can now tell their stories visually and interactively to an online audience.
More than 50 short videos that feature artists' works will be released in coming weeks on YouTube and Facebook, with further releases planned on several other sites. MountainMade, as part of its Web 2.0 efforts, already maintains a regularly updated handmade art blog and posts to its Facebook page and @MountainMadeWV account with Twitter.
"The way that a business needs to market these days is changing rapidly," said Becky Henderson, MountainMade general manager. "And as creators, our MountainMade artists need to focus on their craft, and we're trying to break new ground and reach new markets for them by telling their story via the web."
Marketing local artists' works online isn't a new concept for MountainMade. The Web site was envisioned in the early 1990s as a portal to the worldwide marketplace, and artisan works sold there include metalwork, woodworking, pottery and glassblowing, along with myriad other crafts. These same objects are featured at the physical artisan gallery and Country Store located in the mountains of Thomas, West Virginia. MountainMade also maintains a presence in the gift shop at Stonewall Resort.
MountainMade takes great pride in representing artists such as the owners of Allegheny Treenware, Stan and Sue Jennings. The two were laid off from the coal mines and carved a simple wooden spoon to give away as a Christmas present. More than 20 years later, Allegheny Treenware employs a dozen people and creates a wide cadre of kitchen utensils in several beautiful woods that sell worldwide.
Other famous artists in upcoming features will include glassmakers such as Ron Hinkle or Blenko glass, world-famous West Virginia blacksmith Jeff Fetty, and more.
The MountainMade website also provides information on studio workshop classes and artist resources, along with thousands of items for sale.
###