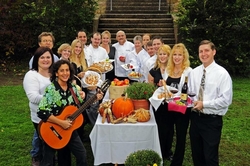 We are thrilled to offer MountainMade arts and crafts here at our inn
Sutton, WV (Vocus) September 24, 2010
Café Cimino Country Inn is pleased to announce that MountainMade will place a selection of West Virginia fine arts for sale in their restaurant and inn located in Sutton, West Virginia.
This partnership is a natural fit for both Café Cimino and MountainMade, according to the establishments' representatives. Café Cimino is a place of casual elegance in the heart of West Virginia, said owners Tim and Melody Urbanic, and has supported the dramatic art and culinary arts for many years.
"We are thrilled to offer MountainMade arts and crafts here at our inn," said Melody Urbanic.  "We feel that it gives our guests just one more reason to come to our little town of Sutton. Over the years, our guests have shown their impeccable taste; they appreciate the fine food, accommodations and atmosphere we offer, and we know they will also appreciate the fine arts and crafts that the MountainMade brand represents."
MountainMade, headquartered in Thomas, promotes West Virginia fine arts and crafts.
"Seeking new retail locations is one of the tools we are pursuing to develop a strong artisan base in West Virginia," said Becky Henderson, general manager of MountainMade. "Featuring our West Virginia artisans at Café Cimino will give their guests the opportunity to see how the art might look in their home or office."
Urbanic agreed, adding, "Café Cimino Country Inn has always been committed to promoting West Virginia artists and we're excited about this new partnership which allows our guests to purchase original MountainMade works of art on display throughout the Main House, Cimino's Little Dishes, and the guest rooms. We invite our guests to come take a little bit of West Virginia home with you."
The Urbanics are working with MountainMade's staff to select the artisan works for display. The artisan works will continually change with all photographs and two-dimensional work changing with the seasons.
Café Cimino is located in a historic mansion on the banks of the scenic Elk River in Sutton. It offers gourmet dining, lodging and comfortable southern hospitality.
###