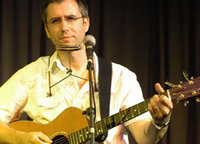 It's the culture of our region and it tells a story of who we are. It's what connects us.
Thomas, WV (Vocus) April 5, 2010
Artists and artisans will gather in Tucker County this spring to celebrate the music that tugs at Mountain State heart strings.
On May 12, the West Virginia Music Hall of Fame's mobile museum will roll onto the grounds of Tucker County High School. The mobile museum will then travel to another school in the Thomas-Davis area, and then spend the following day at the MountainMade Art Gallery in Thomas.
A Friday evening performance at The Purple Fiddle in Thomas is also scheduled, including MountainMade musicians and other acts popularized by West Virginia Public Radio' programs such as "Mountain Stage."
The event is also organized and sponsored in part by MountainMade, the West Virginia foundation that supports the state's artists and artisans, including juried musicians and groups.
"MountainMade music and West Virginia heritage," said Becky Henderson, MountainMade general manager. "It's the culture of our region and it tells a story of who we are. It's what connects us."
West Virginia Music Hall of Fame facilitator Sherry Hobbs travels with the non-profit's mobile museum. Hobbs said the museum set out this year to visit 2 schools in each of West Virginia's 55 counties. Hobbs said she's excited for the Tucker County extravaganza, emphasizing the inspiration the music history lessons bring to children.
"It's amazing the music history West Virginia has," Hobbs said. "A lot of people think it's only country music, or bluegrass — but it's so much more than that."
Hobbs said her passion is showing students that popular music and successful musicians "grow up right in their back yard." She said it's important to impress on young people that they, too, can take part in the tradition and be successful at it.
Hobbs described visiting one school with popular West Virginia singer-songwriter Todd Burge. She said she showed students a YouTube video online featuring Burge, which impressed the students, and then had Burge walk into the room, live and in-person.
"You could see their eyes light up," Hobbs said.
Burge will be among the acts performing at the Purple Fiddle that Friday evening. Burge said other acts will include the Carpenter Ants, led by Mountain Stage producer Michael Lipton. He added the performances will be recorded for radio broadcast.
"It blows my mind how much music has come from these hills and mountains," said Burge, who also sits on the board of the Music Hall of Fame. "And exposing children to art like this is really important. A lot of them have never seen live music."
Henderson said that, while the event is music-themed, all MountainMade artists and lovers of West Virginia handmade art are invited to attend.
"We're going to have this wonderful resource in the community, and we want everyone to attend," she said.
Created in 2001, MountainMade serves a juried group of artists and artisans through marketing and business support. The organization maintains a separate gallery and Country Store in Thomas, as well as a display at Stonewall Resort, and online at http://www.MountainMade.com.
###