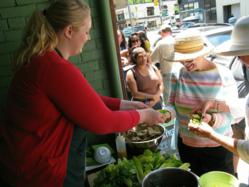 Toronto, Ontario (PRWEB) June 24, 2013
On Wednesday, June 26, the Mount Pleasant Village Business Improvement Area (BIA) brings you the second annual food festival, Restaurantacular. The event attracts foodies of all ages and walks of life from around Toronto. There will be lots to see, lots to do and of course, lots to eat. Admission is free.
With over 35 food booths participating, attendees will have the chance to taste the fabulous $2, $4, and $6 appetizers / small plates / samples of participating restaurants and specialty shops along Mount Pleasant Road between Eglinton Avenue East and Davisville Avenue. The event takes place from 2 p.m. – 8 p.m.
Kathleen Mackintosh, Volunteer Chair of the Mount Pleasant Village BIA stated, "Last year Restaurantacular was run as a pilot event and was overwhelmingly successful! Thousands of people showed up, our street was jam packed and many of our restaurants sold out early.This year, our community is buzzing with excitement, and we are preparing for an even larger crowd."
Mount Pleasant Village's eclectic mix of global cuisine will take you from French bistro to English-style fish & chips to Italian to Thai to delicious pastries and so much more. There will surely be something for everyone to enjoy; so bring a roll of toonies and the entire family and have a great time!
About Mount Pleasant Village Business Improvement Association (BIA)
Mount Pleasant Village BIA is a not-for-profit organization. Established in 2008, we are Midtown Toronto's #1 shopping destination with 230+ neighbourhood shops and services here to keep you and your family healthy, happy, and stylish all year round! We are located on Mount Pleasant Road between Eglinton and Davisville Avenues.
We are committed to promoting and strengthening our local Midtown Toronto community through marketing and event initiatives, city lobbying, and investing in public infrastructure to beautify our area and make it more accessible to our visitors. Mount Pleasant Village is one of now 74 Business Improvement Areas located throughout the city of Toronto.
A Business Improvement Area (BIA) is an association of business people within a specified district who join together, with official approval of the City, in a program aimed at stimulating local business.
While a BIA arises from the retail and professional activities of a main street, it has a profound effect on the surrounding area. It serves as an economic and social anchor, helping to stabilize and revitalize the local community
For a full list of events, keep checking the Mount Pleasant Village website at http://www.mountpleasantvillage.ca.
For more information, please contact:
Sue Wu
Event Coordinator
416-509-2677
Email: events(at)mountpleasantvillage(dot)ca
Kathleen Mackintosh
Volunteer Chair, Mount Pleasant Village BIA Founder, Culinarium
Email: chairperson(at)mountpleasantvillage(dot)ca
Connect with us on Twitter, Facebook and Instagram!
FS Local is a Canadian Web business directory based in Toronto, Ontario. The company provides Internet marketing, advertising and consulting services for small businesses, with focus on local social media web marketing solutions. Mount Pleasant Village BIA works with FS Local to support Toronto local businesses in the community.