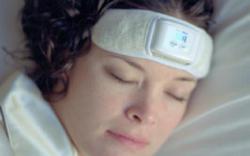 We were pleased to find that some holistic dentists were quite enthusiastic about how effective nighttime biofeedback can be at reducing clenching and eliminating TMJ pain.
(PRWEB) April 29, 2013
Holistic Technologies demonstrated its FDA-approved SleepGuard biofeedback headband and shared TMJ clinical trial results at the annual conference of the Holistic Dental Association in Herndon, VA on April 19 & 20. "We were pleased to find that some holistic dentists were quite enthusiastic about how effective nighttime biofeedback can be at reducing clenching and eliminating TMJ pain," said Lee Weinstein, CEO of Holistic Technologies. "There can be a lot of resistance to doing something in a completely new way in any field, especially when the established way of approaching TMJ pain makes treating TMJ disorder one of the most profitable areas of dentistry."
Mouth guard manufacturers' booths at more mainstream dental conferences such as Yankee Dental often sport signs indicating how profitable their mouth guards are for dentists to sell, and the enormous profits most dentists who make mouth guards expect on mouth guard sales can make it challenging to integrate solutions that will reduce or eliminate repeat purchases. "This can be a challenging conflict of interest," says Weinstein. "MDs are prohibited from fabricating medical devices and selling them at a profit because that would financially bias them and result in more biased medical care, but there is currently no such prohibition in dentistry.
"The SleepGuard biofeedback headband costs five to ten times as much to make as most mouth guards, but it sells for less, plus the biofeedback headband does not get used up and chewed up," says Weinstein. Dentists who make the biofeedback headband available to their patients do so to provide great service and help people get out of pain, not to maximize their profits. The biofeedback headband is designed to last more than 10 years, and is inexpensive to use (typical ongoing cost is about $5 per month).
"Holistic Technologies is dedicated to getting people out of pain and bringing down the cost of healthcare," says Weinstein. "While healthcare-related marketing today typically promotes disposable devices that only treat symptoms, Holistic technologies offers a long-lasting solution that goes after the cause."
The operation of the SleepGuard biofeedback headband is simple. It is worn on the head and senses EMG muscle signals from the temporalis muscles at the temples, allowing it to detect nighttime clenching. It can be used either in silent (diagnostic) mode, where it counts teeth clenching incidents and tracks total clenching time, or it can be used in biofeedback mode, where it not only tracks clench count and time but also makes a sound each time it detects clenching to remind the person wearing it to relax jaw muscles.
"When people learn that it makes a sound," says Weinstein, "they assume it is supposed to wake you up, but that is not the case. The sound comes on quietly, and with a little practice during the day, users usually learn within a few days to respond to the sound by relaxing jaw muscles in sleep, without waking up."
Guaranteeing results is another area where Holistic Technologies is bucking trends for other TMJ disorder treatments. While dentist-made mouth guards aren't even money-back guaranteed, the SleepGuard biofeedback headband is free to try for 21 days. While about 20% of the people who try it decide it is not the best treatment for them, over 50% of people are able to reduce their addictive nighttime clenching by more than 80% within two weeks, and eliminate or greatly reduce their pain. The free trial gives plenty of time for someone to figure out how bad their nighttime clenching is, and whether nighttime biofeedback results in a significant reduction in, or elimination of pain.
Rental units are also available for consumers who want to use a unit for several months without purchasing it, and people can rent to own in nine monthly payments if desired.
"We're not against mouth guards and we are not trying to compete with mouth guards," says Weinstein. "Mouth guards are an excellent way to protect tooth enamel, and over-the-counter inexpensive mouth guards are often found by consumers to be just as effective as expensive custom-made mouth guards. We also think it is important for people to know that chewing on a custom-made mouth guard can result in ingesting some toxic un-cured resin material". The SleepGuard biofeedback headband is used along with a mouth guard by many people. The mouth guard ensures no enamel wear, and the biofeedback headband helps prevent pain and heal TMJ disorder symptoms that stem from clenching.
"We feel it is basically unfair that almost all other TMJ and migraine treatments don't even have money-back guarantees," says Weinstein. "We have made the SleepGuard biofeedback headband free to try. We feel no TMJ or migraine treatment should have to be paid for unless it works for the person using it."
Interviews with people who were ale to reduce or eliminate TMJ pain can be arranged upon request for members of the press, and Holistic technologies makes raw clinical trial data available to university researchers.
Holistic Technologies LLC has been providing nighttime biofeedback relief to thousands of bruxism sufferers since 2007. The company website is http://StopGrinding.com. News and new information regarding the SleepGuard biofeedback headband may be received automatically through the SleepGuard news RSS feed.