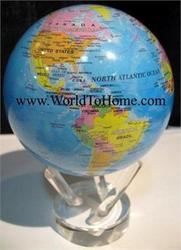 Upland, CA (PRWEB) November 18, 2010
WorldToHome.com, the leading retailer of the amazing solar powered rotating Mova globe, is announcing the introduction of three brand new Mova globe models: the Starmap globe, the Natural Earth globe, and the Satellite View with Clouds Mova globe. These new models, all 4.5" in diameter, are coming just in time for the holidays, as they make excellent gifts for anyone, especially people who travel or enjoy high-tech gadgets.
The Mova globe is a solar powered globe that utilizes any light source and the Earth's magnetic field to rotate and spin all on its own, requiring no batteries or power. The globe consists of an inner sphere surrounded by an outer "shell". The inner sphere is suspended in liquid, so the two surfaces simply glide past each other in a frictionless environment. There are solar cells within the Mova globe which are powered by any light source. The solar cells combined with the earths magnetic force are what cause the globe to rotate magically all on its own, creating for an amazing desktop piece that will impress all who see it.
The Black Starmap globe, rather than mimic the Earth, instead features night-time constellations. Each silvery constellation is set against the globe's black background, and includes both the name of the constellation as well as what the constellation represents. The other two new models offer satellite views of Earth as if seen from space, with the Clouds globe simulating our planet's complex weather system.
In addition to offering new models of Mova globes, World To Home is also introducing two new styles of mova globe bases: square crystal bases and solid pewter dolphin bases. The crystal bases are available in three different sizes to showcase your Mova globe on varying heights. Each base slopes upward in a pyramid shape, and includes a round depression at the top for the Mova globe to rest in. The solid pewter dolphin bases are available in a black finish, bronze finish, or natural pewter. The Mova globe rests on the tip of each dolphin's raised tail.
About World To Home:
Based in Los Angeles, Worldtohome.com offers a wide selection of luxury unique home decoration accessories and home décor accents, including lighting, heating, gifts, tabletop accents, gadgets and more. Unique items include: mova globes, branch lights, antique telephones, metal wine bottle caddys, personal fireplaces, figurine fans, and many more exclusive items.
To learn more about World To Home, check out http://www.WorldToHome.com
Contact:
WorldToHome.com
Kyle K., Press Officer
info(at)worldtohome(dot)com
# # #