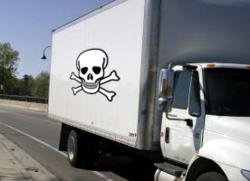 The main advantage in using MoveMeAway.com is that we go the extra mile to protect consumers from movers who are fraudulent. We research moving companies before allowing them to be registered movers on our site.
Toronto, Ontario (PRWEB) October 28, 2011
Recent data gathered by MoveMeAway.com shows a strong correlation between moving scam scares and decreased home purchases The Star first conducted an investigative story on Desi Movers, a fraudulent moving company who would quote a very low cost to clients who responded to their ads, ask for a deposit up front, then, halfway through the move, demand double or triple the costs. A statistical analysis of sales figures published by the Toronto Real Estate Board reveals a notable dive in housing sales at times where moving scams have been given public attention, showing sales beginning to decline, for instance, the same summer The Star ran the investigative story—over the same months that are generally peak moving times (May-September). Recovering slightly the following year, sales plummeted once again after the results were broadcasted of a police investigation of the same company in May, 2010 real estate purchases sharply dropped again—from almost 12,000 homes at the end of March to close to 9,000 by the end of May.
Has public attention given to recent moving scams in Toronto have made some residents scared frozen, hesitant to move at all? Toronto seems to be now dealing with a hangover of its hayday of real estate glory, unable to match its sales in 2007 and 2009. Analysts point towards increased housing prices, however, dramatically decreased interest rate have The Toronto Real Estate Board encouraging us that now is the time to buy, urging home buyers to "continue to take advantage of the affordable home ownership options in the GTA". So why aren't many Torontonians budging? The strong correlation between moving scam scares and lower buying is undeniable. Residents and councilmen alike are still anxious to see the moving dilemma in Toronto resolved. In a recent CBC article published Oct. 13th, 2011, Toronto Coun. Glenn De Baeremaker voiced his concern about getting the city regulations to stop moving scams, and one can find endless blogs and sites by Torontonians warning about companies that have scammed them.
The problem with keeping tabs on these scammers is that most of these companies, like Desi Movers, repeatedly change their name in order to keep taking advantage of others. So what is a Torontonian to do? It used to be that consumers would use directories like the Yellow Pages—but nowadays it would be illogical not to try the internet. Consumers can weed their way through endless Toronto movers's websites, trying to discern the fraudulent from the real, while trying to find a reasonable deal. But since "low balling" or low prices is one of the telltale signs of scamming companies, it can be very tricky to find a company that you both know is reliable and has a reasonable price. With all the difficulties Torontonians are having finding reliable moving companies, many are turning to lead generation companies, who function as a high-speed connecting force between consumers and moving companies offering the services they need. The problem with many of these sites, however, is that anyone saying their a moving company can register, so consumers are put at the same risk.
This is where MoveMeAway.com comes into the picture. Melih Eroglu, CEO at MoveMeAway.com, says "The main advantage in using MoveMeAway.com is that we go the extra mile to protect consumers from movers who are fraudulent. We research moving companies before allowing them to be registered movers on our site." MoveMeAway.com has a rigorous selection process for moving companies in Toronto as well as other cities, and only reputable, certified and experienced movers qualify for their lead generation services. This not only protects consumers looking to move from potential scams and frauds, but saves them all the time and hassle of both researching companies and comparing prices.
AboutMoveMeAway.com:
MoveMeAway.com connects relocation service providers with their potential customers. It generates quality moving leads and distributes them to reputable moving companies in the United States and Canada. They ease the process of moving for consumers by allowing them to find multiple moving estimates from different reliable movers, at the click of the button. They also ease the process of moving for moving companies, as relevant leads are sent directly to them, with no need to advertise. MoveMeAway.com also offers free, practical information for individuals planning to move, helping consumers every step of the way along their moving process, from planning where to move to what to do once they've arrived to their destination.
For More Information Contact:
(888) 700-9048
info(at)movemeaway(dot)com
http://www.MoveMeAway.com
# # #